Ordinations 2020
Congratulations to our newly ordained deacons and priests!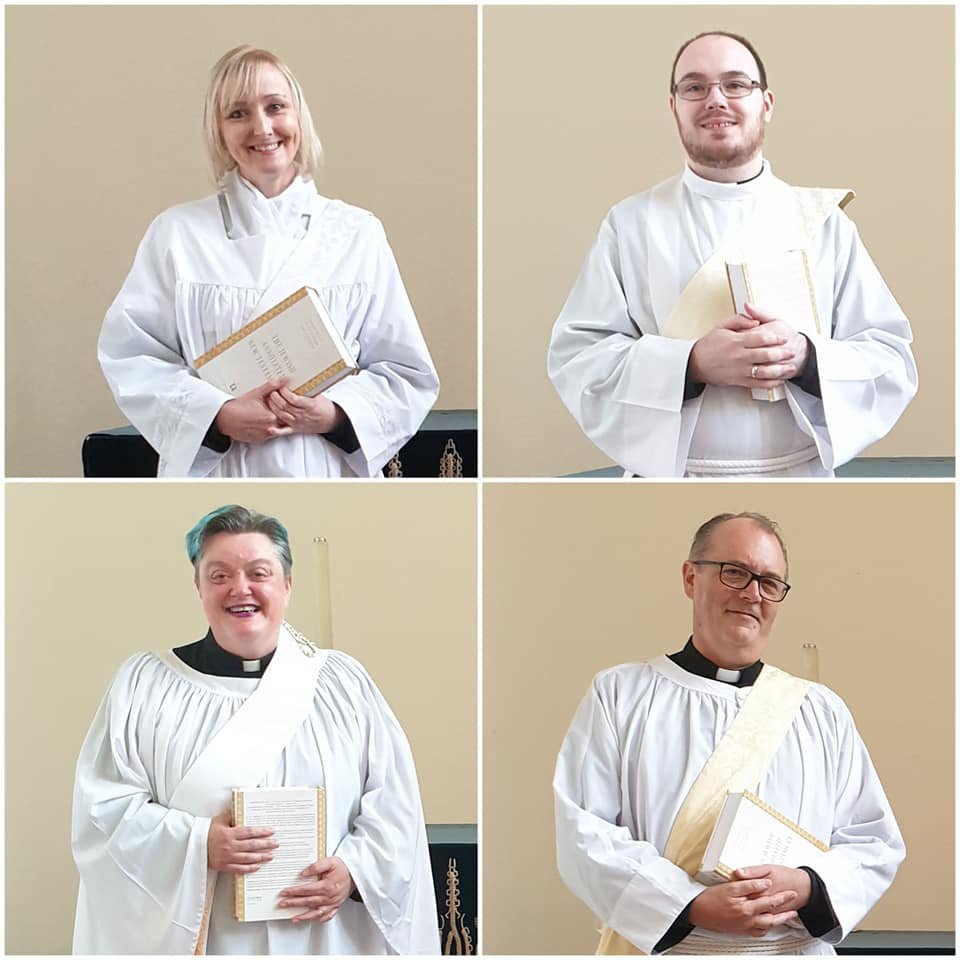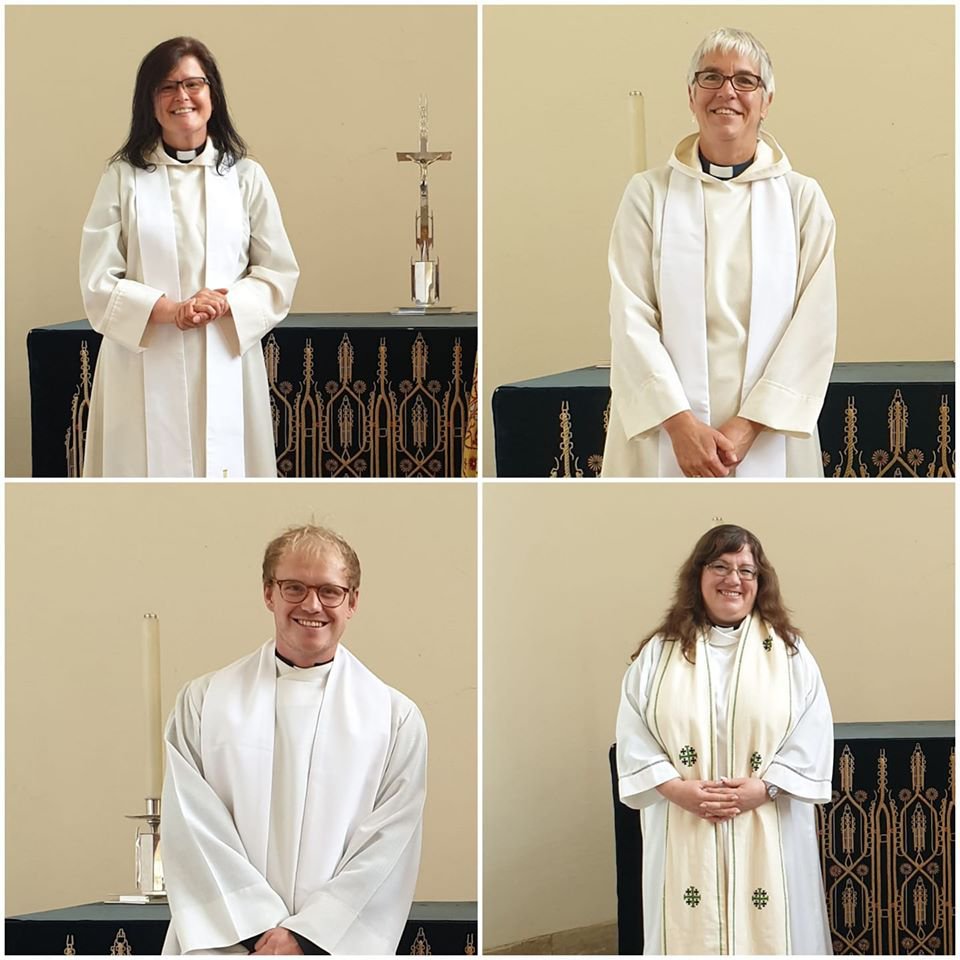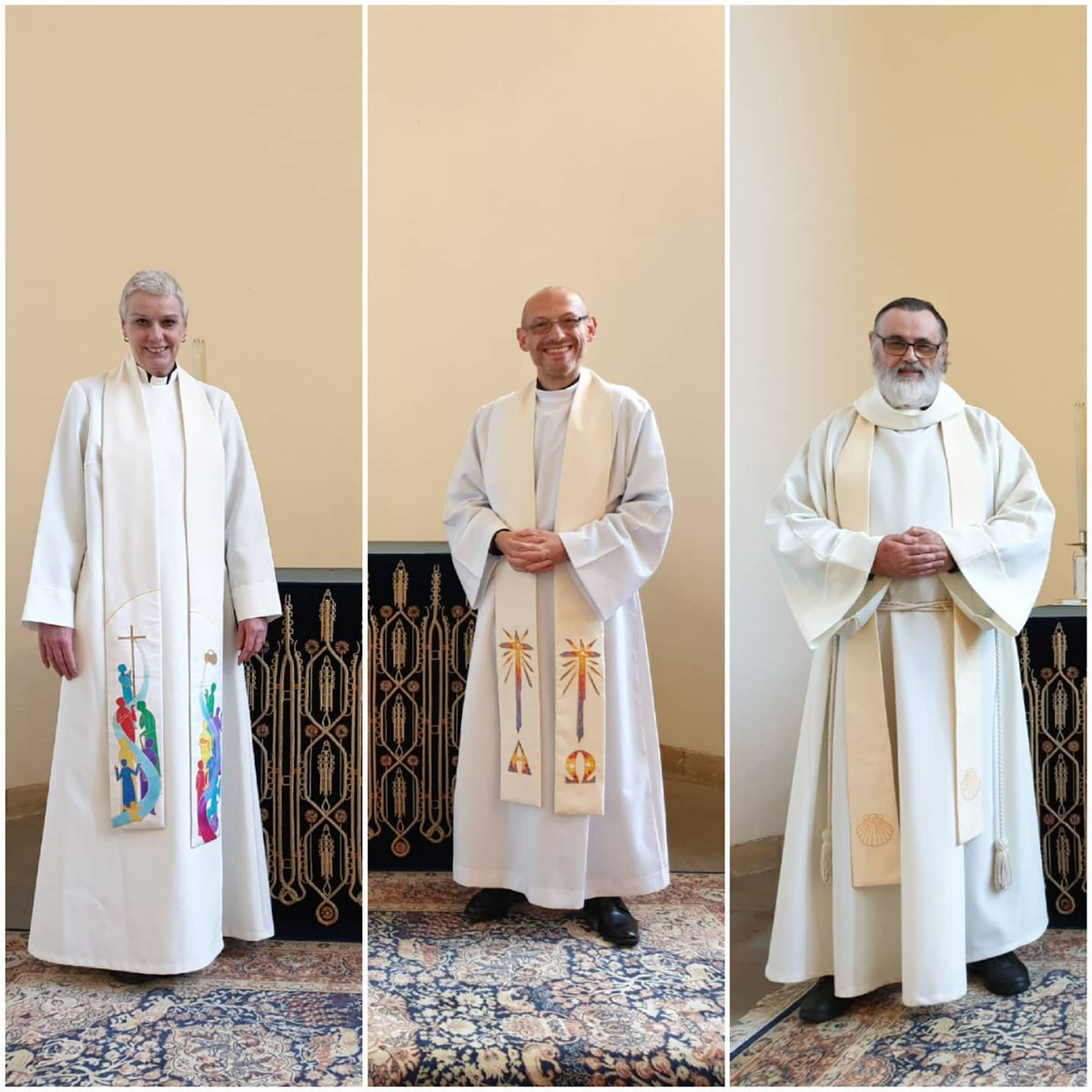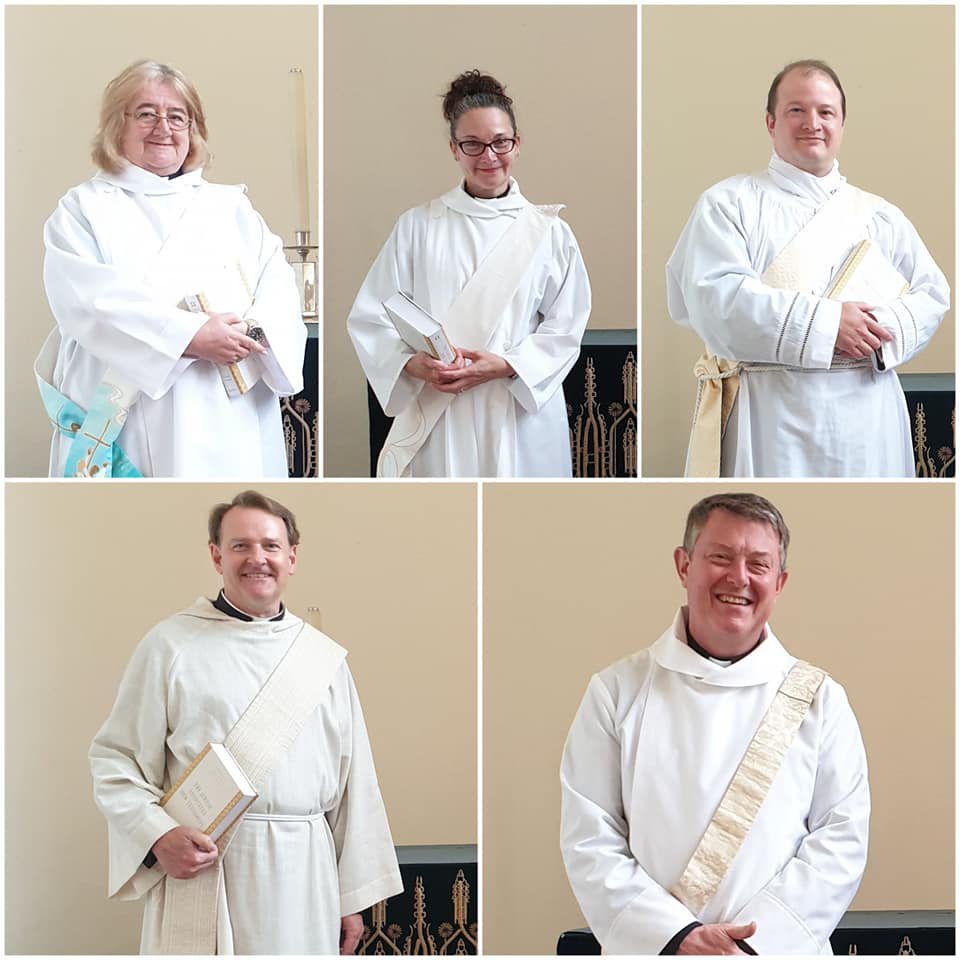 We are delighted that nine deacons and four priests were ordained by Bishop June at Llandaff Cathedral on Saturday 28th June (Petertide), and a further three priests on Thursday 6th August (The Transfiguration of the Lord), in two unprecedented ordination services with strict social distancing in place. The candidates prepared for their ordinations with a two day online retreat led by Bishop Frank Griswold, the former Presiding Bishop of the Episcopal Church of the USA. Please pray for them as they begin their new ministries.
Newly Ordained Deacons: The Rev'ds Ceri Holloway, Geraint John, Martine Lewis, Peter Watson, Glenda Oglesbee, Belinda Huxtable, Benedict Yates, Ian Yemm and Sion Brynach
Newly Ordained Priests: The Rev'ds Emma Street, Ali Reeves, Ryan Forey, Lorna Hanney, Ruth Coombs, Stuart Ghezzi and Geoff Lunn.
Our new deacons and priests reflect on their journey so far...
The Rev'd Ali Reeves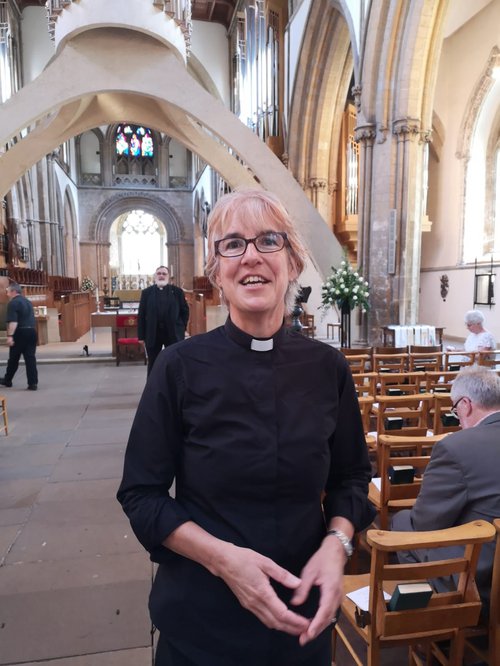 Looking back over my first year of curacy, ordination day last June seems like a lifetime ago, yet in another way, this year has flown past; it seems like just yesterday that we woke up on that Saturday morning at the Retreat House and went down to breakfast wearing our clerical collars for the first time.
Being ordained deacon was a huge event in my life, but with the way that the Church works there isn't really time to dwell on and reflect on the day at the time. The next day, Sunday, was a full day at work in my new parish. It was a wonderful, but tiring day, being introduced to the congregation at four services and carrying out the role of deacon for the first time, in front of a congregation who were all strangers to me.
I'm pleased to say that they didn't remain strangers for long; All Saints take their description as a church "family" very seriously. I was welcomed into their midst and soon felt at home.
I think it would be safe to say that the first year of curacy is quite intensive; there is much to learn and although it has been a smooth ride for me (thank you to whoever realised that All Saints would be such a good fit for me), looking back I can see how I have developed both as a person and in my ongoing journey of faith.
The four months since lockdown have been hugely challenging to everyone, but despite the suffering of many, there have been new opportunities, finding ways to reach out to those who didn't engage with our previous concept of how church should be. Going forward, I hope that we can continue to reach out to a wider population as well as welcoming our original church family back into our much loved building. I will continue to work on my somewhat limited video editing skills.
I'm looking forward to what the next two years will bring as I journey on.
The Rev'd Peter Watson
The Rev'd Ceri Holloway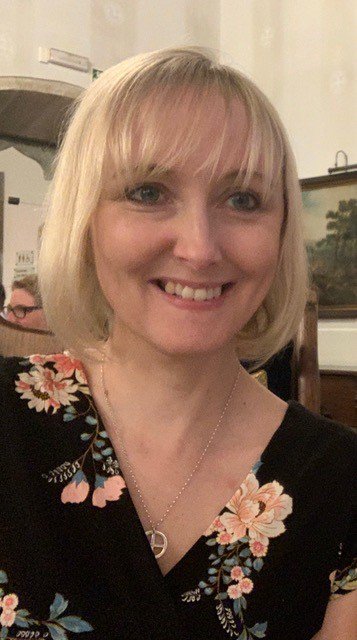 I have enjoyed my time at St Padarn's Institute and have some lovely memories which will stay with me forever. I have just completed the BTh in Theology for Discipleship, Ministry, and Mission, which has enabled me to develop academically and personally, and I have been inspired, challenged and well supported throughout the programme by all the teaching and support staff. Having a vibrant cohort of students join each year has also enriched my worship and fellowship, and I look forward to being able to take all this academic knowledge and collective worship experience and put it to good use within my curacy.
One of the most important highlights of my time as an ordinand has been my placement within the Benefice of Eglwysilan and Caerphilly under the guidance of Fr Mark Greenaway-Robbins. Fr Mark's patient support, guidance, teaching and commitment to my training has been an invaluable part of making me feel ready to make the next step into curacy. The gracious welcome and support I have received from the Wardens, Mother Pauline, Fr Edward and all four of the congregations has been amazingly generous and loving - they all truly model to me what it is to be Church today. I hope, when Covid-19 restrictions allow it, to be able to go back to Caerphilly and join everyone in worship one last time so that I can say thank you and au revoir properly to them all.
However, I am now looking forward with great anticipation and excitement to join with the Parish of Coity, Nolton, Brackla with Coychurch, in Bridgend. I have been in contact with my new training incumbent, the Reverend Maggie Thorne, over the past few weeks and have been receiving the newsletters and online worship material from the parish. This has made me so eager and excited to become a part of God's work in this area of the Diocese of Llandaff. Therefore, may I ask in your charity, please pray for me, my children, and the parish as I take this next step into curacy at this time.
The Rev'd Glenda Oglesbee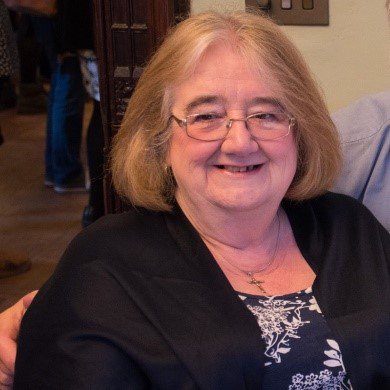 With ordination approaching, I confess to not having slept properly for nearly a week! After all the uncertainty caused by Covid 19 it is good to have a date and to know it is going ahead soon.
My journey to this point has been a long one from having a faith but not going to church, through atheism, into a strong faith and a calling from God. Perhaps the most challenging time through this was having a strong calling but, due to my life circumstances, being unable to pursue it. It was an incredibly frustrating time. However, I can see that the time was used by God to help me grow, in faith, as a Christian and as a person.
However, training was a joy. Despite being NSM I was able to train full time in the community at St. Padarn's. I enjoyed my time there and made some lifelong friends. More importantly, it helped me develop as a priest. I learned so much and became so much more than I was. I will always be grateful for that space in which to grow.
I am also thankful for my placement and for my placement supervisor. I learned a great deal about being a parish priest and Sunday services that will stand me in good stead in the future.
During this period, I became a prison chaplain. This is challenging in the best of times but in the Covid 19 epidemic it has become even more so. I thank God for this ministry, challenging though it can be, as I know chaplains make a real difference to these men.
In these extraordinary times the ordination will not be the celebration I had planned but I am excited about starting in my training parish, learning new things, meeting new people, and settling into a new way of being. This year we are being ordained into a very different looking church but I am excited by the challenge and I thank God for calling me to this ministry.
The Rev'd Stuart Ghezzi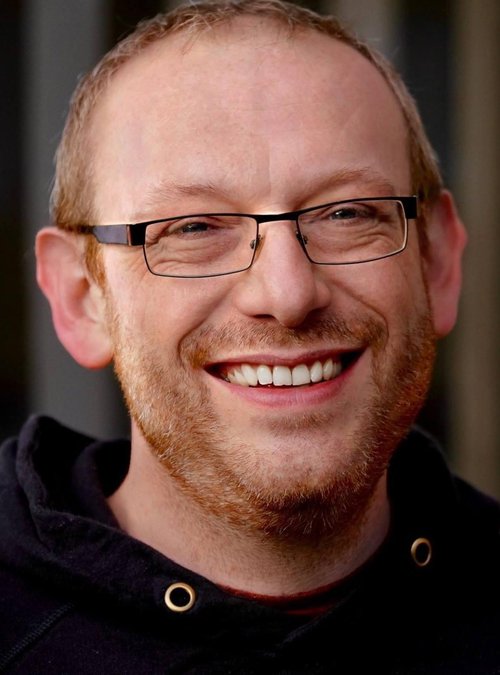 Over the last number of weeks the song that has kept coming into my head is the one with the lyrics "what a difference a day makes, 24 little hours". I suppose I've been thinking about this song as, for all of us, what a difference a year makes. This time last year I was preparing to walk into the Cathedral to be ordained to the diaconate with much pomp and ceremony. Now, 12 months on I'm sat reflecting on the impending beginning of my Priesthood under very different circumstances. Through everything over the last few months, I'm constantly reminded that though we all love a big ceremony and much fuss, God is with us each and every step of the path that we are taking. Ordinations this year will look very different, possibly to ever before, but God is the same yesterday, today and tomorrow. What will the beginning of my life as a Priest look like as we navigate the current pandemic? I certainly can't even attempt to answer that, but what I do know is that God is walking the path with me, and the prayers of so many people are with me and all those to be ordained this year. Whatever form the ordination service takes, the Holy Spirit will be with us all in the next stage of our ministry. The next stage possibly isn't as straightforward as any of us had imagined, but we still have a Gospel to proclaim and we have so many different and varied opportunities to tell people about Him – and for that I await my ordination with great excited anticipation.
The Rev'd Geraint John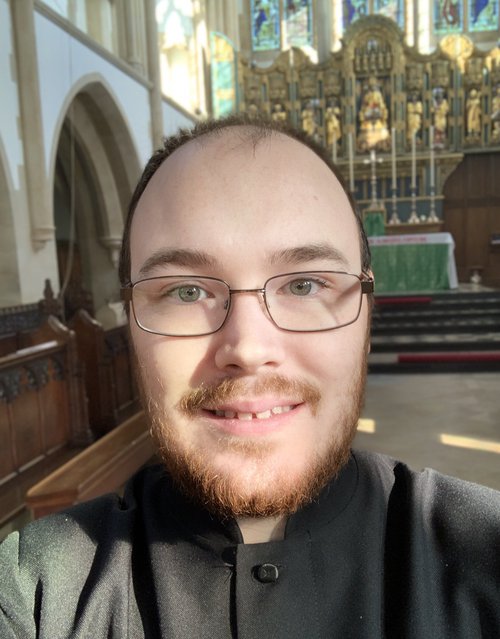 Having spent three years training for ordained ministry at St Padarn's Institute I am extremely excited to begin my ordained ministry in the Parish of Llangynwyd with Maesteg.
I grew up in Glyncorrwg and attended the local Methodist Sunday School for a number of years. However – in protest at being expected to play Joseph in the nativity play for the fourth year running – I left under a bit of a cloud. A few years later, my brother joined the local Anglican church choir and enticed me along to a service with the promise of free chocolate as it was Easter Sunday. I quickly discovered that the chocolate was not free as I was dressed in a cassock and surplice, sat in the choir stalls and expected to sing for my chocolate.
As someone who was beginning to learn to play the cornet and the keyboard, I also found myself being encouraged to "have a go" at playing the organ and with the support of my parents, the congregation, the vicar; Rev'd Cyril Laskey, the choir mistress Mrs. Lynne Laskey, and the RSCM - I was sent for organ lessons at Llandaff Cathedral. The love, support and encouragement I received from this church community transformed my life on many levels. I was baptised at St John The Baptist Church, Glyncorrwg on Advent Sunday 2002 and confirmed the following November. I later became People's Warden and helped to lead the parish through a period of interregnum.
After a number of years of regularly playing the organ for morning services at Glyncorrwg I also began to play the organ for evensong in Maesteg. In June 2012, I plucked up enough courage to speak to Rev'd Geraldine Blyth about the possibility that God was calling me to ordained ministry. This saw me enter into the formal process of discernment. During this time I met with the vocations advisors and was encouraged to take an active role – away from the organ bench – in the life and work of the parish. I also became a chaplaincy volunteer at the local hospital. The encouragement I received from the clergy, church communities, my friends, and my family only added fuel to my sense of vocation and after a process of discernment I was recommended to begin training for ordained ministry in 2017. Whilst training for ministry I was attached to the Parish of Cardiff: St German with St Saviour and also spent some time working with the chaplaincy department at HMP Cardiff.
As I begin my ordained ministry I hope to be able to emulate the support and encouragement I received from the church communities I have had the pleasure of being a part of as I work to encourage and nurture others to become willing disciples of Christ.
The Rev'd Lorna Hanney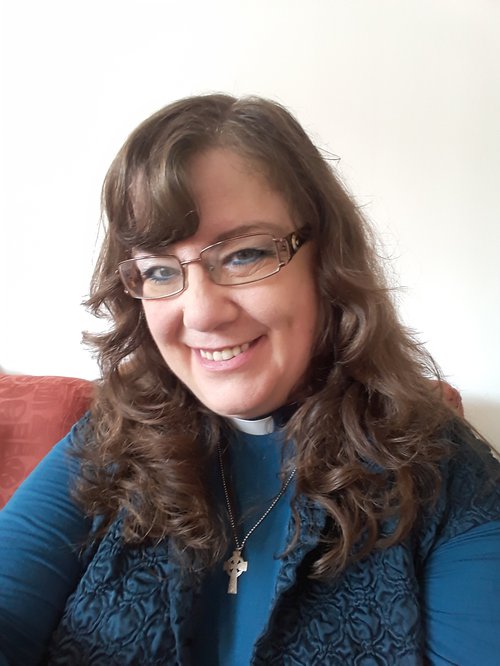 Dog collars are daunting - that's what I have discovered about being a deacon. People either smile , run, or call you Satan. My prayers have become shorter at outdoor events. Since an unwell street person crept up behind me and attempted to set my hair on fire. Cardiff is my kinda town, full of wonderfully diverse communities. Most days are ordinary and on others a simple trip, turns a bus into a confessional. I see God in all things especially culture, justice, nature and art.
This past year I have enjoyed , leading prayers at an 'Extinction Rebellion' protest, and spending an afternoon in Cardiff prison. But most satisfying has been tentatively learning how to preach the Gospel - now there's a humbling thing. Writing a 2 minute 30 second talk for our livestream service - certainly focuses the mind!
All my adult life I have worked with hurting young Londoners, on the margins of society. I used to be a trainer. So one of my favourite things to do as a deacon - is to facilitate a weekly Bible study group. Where we enjoy the sense of play, possibilities and debate.
Curiosity and laughter often bring us all home to God. St John's for me - is the people. Those who call it home and those who visit. We're open daily - and can be a place of solace for those struggling with mental health issues and those who have lost a loved one. Being invited to come alongside those in distress to listen or pray - is quite a privilege. Concerts abound, bringing - the Welsh Guards, schools, students , tourists and our 'Tea Shop' regulars. We're a glorious bunch, who all find forgiveness through the Eucharist.
Learning to be a priest for me. Is about encouraging everyone to go deeper in their relationship with God, others and themselves. It's about being passionate about breaking down the barriers that stop people from encountering God. Christianity has to be humane, accessible and brimming with life.
Dog collars are daunting. But under this one - there's a stumbling friend of Jesus who would really appreciate your prayers.
Y Parch Siôn Brynach
The Rev'd Emma Street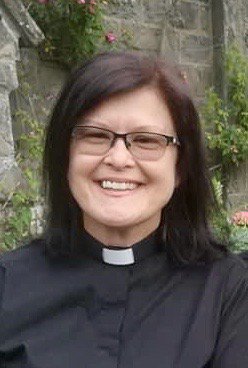 Well, what a year! Who'd have thought that my first year of Curacy would end in the way that it has. Last June, at Ordination, if someone had said to any one of us, that we'd be facing the surreal challenges that face us now, well, we wouldn't have been surprised if that person called themselves a poached egg! And that's the greatest lesson I have learned from this year – expect the unexpected.
The Ordination last year, was one of the most moving, wonderful, terrifying, life transforming events that I have ever experienced. From start to finish, the Ordination Day was beyond description. I have never felt so safely and securely in God's hands. My Curacy started it on such a "high", I was ready for anything. But, as I said, expect the unexpected.
For me, the almighty "high" was followed by an almighty "low". My own personal grieving process took control of me, resulting in me falling "lower" than I could ever have imagined. The support networks in place were, and are, priceless. Revd Zoe King, I sincerely thank you. Revd Canon Richard Lowndes, I can't praise you enough. Bishop June, you are truly magnificent.
I expect the coming Ordination Day to be just as special as last year. The Cathedral experience will be different, yes, but it'll be unique. Just as last year, I expect to be overwhelmed, humbled, absolutely elated. I expect, I know, that its going to be life changing. And we will be in God's loving embrace.
The year ahead will be one of new, wonderful challenges. I am looking forward to it immensely. But, the one thing I will be doing, and thoroughly advise ALL those being Ordained this year, is constantly monitor your own well being. Constantly monitor your fellow Curates' well being. Be mindful of how you "come down" from what promises to be the most amazing day of your life, and be safe in the knowledge that Revd Zoe King has got you covered!