Vocation and Ministry Book Reviews
Penny Williams, a diocesan vocations advisor and reader, reviews two of Mark Greene's books on discipleship and ministry in our everyday lives...
Mark Greene is executive Director of the London Institute of Contemporary Christianity. His books are biblically based, down to earth, humourous, full of real life examples and easily readable. More importantly they are relevant to our lives beyond Sundays and provide us with a different perspective on the role of the laity, which has perhaps been obscured by the church's sacred secular divide.
As a theme running through these books, Greene describes how as churches we tend to focus on community projects within our neighbourhood, such as playgroups, foodbanks, lunch clubs and so on. Worthy as these are he says, they are an incomplete strategy. The unspoken aim of many projects is to draw people into church, in order to listen to the minister/vicar/pastor. The result is that the laity are inadvertently diverted to support the leader's ministry, rather than being equipped and released into their own ministry outside the church . In turn, the gifts which the church then seeks among its laity are those, which satisfy its own needs. It is easy to see then how the perception that there is an unspoken hierarchy of ministries, in which secular work does not feature as a vocation arises. It creates a belief and even a feeling of guilt, that what the laity do on a daily basis has no spiritual or ministry value.
The second feature of this incomplete strategy is that many of these church projects seek to connect with strangers. This ignores the fact that many lay people spend a large part of their time, not only outside of the area where the church is attempting to minister, but with people outside church. Relationships with these people and the bridges for communication are already established. A single Christian in such a place is of as much worth as any overseas missionary. Is it more important Greene asks that we get people into church to hear the minister or that we get them into the Kingdom to hear the word of God?
'Fruitfulness on the Frontline'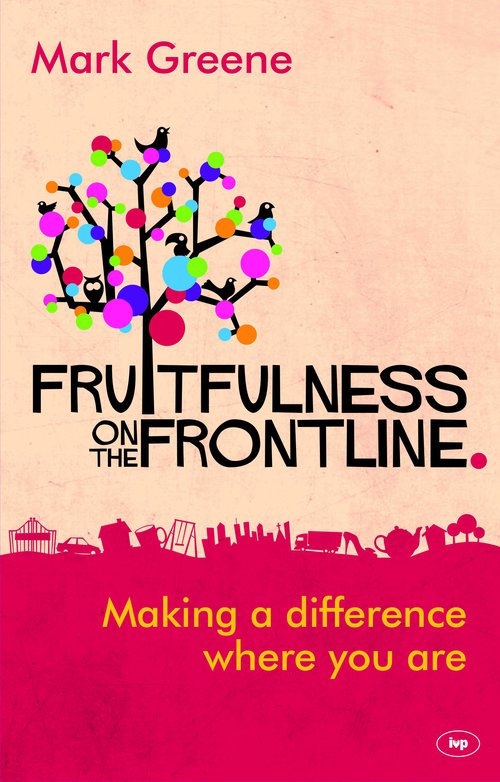 In this book, Greene describes a frontline as anywhere, where we spend time and regularly encounter people, who don't know Jesus. Many of us will have more than one frontline e.g. family, work, the gym, the corner shop etc. We should he says, look at these places differently.
Fruitfulness has too often been narrowly defined as evangelism with new converts as the only possible outcome and therefore best left to those with a theology degree. Fruit in the Bible is defined as any action, word or attitude, which is pleasing to God, in line with His will and which brings Him glory. All forms of fruitfulness have their source in Christ.
Greene goes on to look through a series of lenses at the ways in which we can be fruitful. He describes these as – modelling Godly character – letting the life of Christ flow through us. He talks about the use of prayer to bring the people and situations we encounter to God and allow Him to work through them. We can minister grace and love – in many simple ways – practising forgiveness, going the extra mile, noticing invisible people, looking for opportunities and possibilities to listen, to be kind, to be generous without seeking reward. We can be on the lookout for kingdom solutions to change the dynamics of situations or systems, which may not be wholly beneficial or loving to all concerned. We can be mouthpieces for truth and justice where negative situations such as gossip, the abuse of power, lies of convenience or unfair credit or blame exist. Finally we can be a messengers of the Gospel. The Holy Spirit has shown Himself to be remarkably capable of overcoming obstacles to sharing the Good News! We are not responsible for the evangelisation of our entire family/street/company/keep fit group but we can work in communication with God to play our small part, remembering that God loves the people on our frontline. We cannot always see how the little things we do may be used by God for His greater purpose. Matt.13:32
'Thank God it's Monday'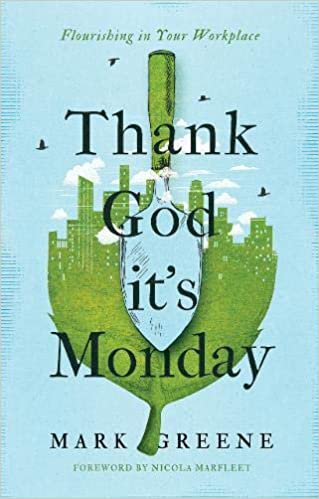 In this book, Greene develops the theme described above in the context of the workplace. The workplace is God's place he says, it is a harvest field. He can work in us, through us and in those we work with. The Holy Spirit, he says, doesn't leave us at the office door or factory gate and say - see you later at the prayer meeting. God is interested in every part of our lives.
In the successive chapters, the author provides us with a theology of work, ultimately it is worship. Stemming from this he explores themes such as how we develop our relationship with God, so that we go to work with His authority and in His strength. We learn to see our co-workers through His eyes. We witness to the transformation of our own lives.
He provides an outline plan for reaching individuals, he explores the changes, which have occurred in the contemporary workplace and the issues which arise. He looks at the need for support from other Christians, the need to regard evangelism as a process not a one off event, a process within which, we may play a major, minor or even unseen part. Other themes covered include how to work under authority and how to be in authority, job insecurity and its attendant anxieties, honesty and integrity in the workplace and the moral dilemmas that we might encounter at work.
To every lay person who feels, that they don't have much of a contribution to make to the Kingdom, or feels lulled into a sense of passive receptivity by our liturgical services – read these books. To every member of the clergy who wants to support their congregation, read these books.
The Rev'd Peter Lewis, the diocesan vocations advocate reviews, 'Hearing God's Call: Ways of Discernment for Laity and Clergy' by Ben Campbell Johnson...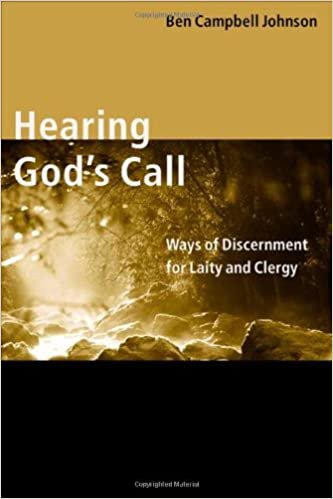 Why do I love reading this book? This is a very practical book with each section ending with a series of insightful exercises in discernment which are fresh in their approach and seemed to get right to the heart of some of the issues that are wound up with listening better to God's call.
Who is the book aimed at? As the title suggests we all are being called by God so rather uniquely, this book deals with vocation for those who are already ordained, those thinking about ordination and those thinking about all kinds of aspects of life unrelated to church-based ministry but much more about every day real life.
What kind of a book is this? This is not a book you read from start to finish in a day or two. The style is relaxed but because it has these practical exercises, it requires some time of reflection between chapters and indeed, time to try out some of the spiritual practices. It has a wide mixture of reflections on Scripture, Church history and personal stories from the author's context of the USA – all translate very easily into the British culture.
What is my favourite aspect of the book? Chapter two is titled, "Is God messing with your life?" and reminds us that God is inviting us to have a part in the unfolding drama of History under his direction.
The Warden of Readers, Colin Finney, recommends 'Reader Ministry Explored' by Cathy Rowing and Paula Gooder, for those exploring a call to Reader ministry...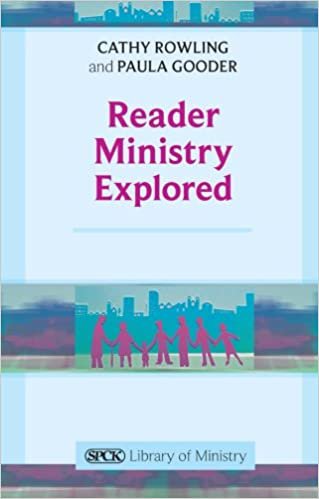 Discerning your vocation? Thinking about Licensed Lay Ministry as a Reader?
There are a number of good books exploring Reader ministry including a couple of titles in the Grove series on ministry.
However as great introduction, the one I recommend – written by Cathy Rowling and Paula Gooder is 'Reader Ministry Explored'.
Cathy is a priest with experience in training candidates for Reader ministry, presently Principal of Lindisfarne Regional Training Partnership and Paula is a biblical scholar, speaker and a Reader in Birmingham Diocese.
Reader Ministry Explored is Published by SPCK ISBN 978-0-281-06740-4.
The book is helpfully set out in 3 parts. Part 1 looks at the history of Reader ministry, its place as 'part of the ministry of the whole people of God' and something about present practice. The necessarily brief review of the history of Reader ministry finds its roots in the early church and then re-imagined at times throughout history to meet the needs of the church, particularly when and where there is a scarcity of priests.
In part 2 you are taken on a journey from discernment through training, formation and licensing. The book explains how this involves spending time with people who will help you discern your calling and if that seems to be Reader ministry, the book goes on to outline the demands of training and formation through to eventual licensing.
Part 3 considers the various expressions of Reader ministry today, the rules and regulations governing the movement and a reflection on the dynamic nature of the ministry.
The appendices include a helpful primer for a discussion about the relationship between Reader and Deacon ministry.
This book is written for the Church of England but translates very well to the ministry as it pertains in Wales.
In both settings the roles of a Reader might include some or all of the following:
Leading non-sacramental worship
Preaching in a wide variety of contexts
Teaching or leading groups
Taking Holy Communion to those in nursing homes or the housebound
Visiting people in hospital
Leading assemblies
Helping or leading in a wide variety of pastoral and outreach settings
Those considering Reader ministry should speak to their incumbent, have a look at the diocesan web site and get hold of a copy of this book.
One of the reviewers of the book when published – Bishop Robert Paterson – former Chair of the Central Readers Council said this:
'What a treasure this book is! Anyone asking questions about the possibility of public ministry – lay or ordained – should read it. Readers and Clergy alike cannot fail to be encouraged, challenged and informed by this mix of theory and down to earth practice, history, vocations….and so much more'