Vocations Blog
Belinda Huxtable (Final Year Ordinand)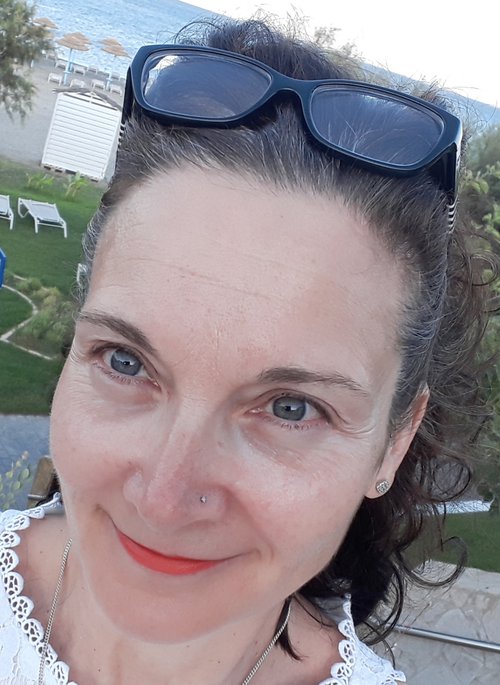 Belinda Huxtable is a final year ordinand at St Padarn's Institute. She hopes to be ordained Deacon this year and begin a curacy in the Parish of Radyr. For her ordination she has had a stole* specially designed to reflect her vocational journey. Here Belinda explains its significance…
We are all called in a variety of ways, at various times in our lives to different things. I believe a call doesn't come as a voice from outside, or from afar; it's a voice that speaks deep inside the heart, a yearning, a desire, it's overwhelming and never leaves you. At the age of 5 I helped my mother care for my sick brother, this developed into a call to become a nurse, a midwife and a mother, such a privilege and a blessing.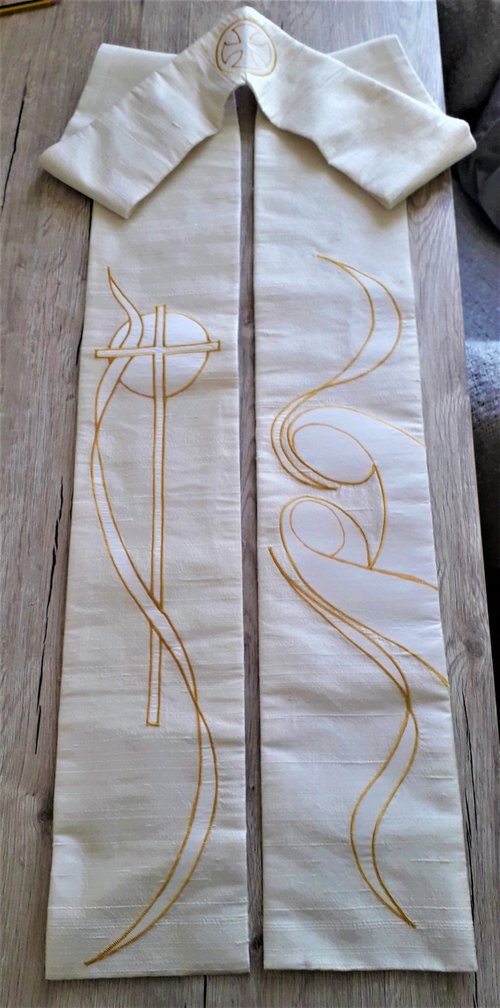 But always from those early years I had a sense that there was something else that God had planned, it was very much a sense of unfinished business if you like. This yearning or desire just kept growing and slowly over time and with discernment, it revealed itself as a call to ordained ministry.
This year I am looking towards ordination, God willing. A time of great joy and celebration, a time of blessing and gifts; one of which is a special garment, the stole worn at the celebrations such as Easter and baptism. I designed my stole with this in mind, on one side it has our lady and our lord, on the other the cross of Easter. But I also wanted it to speak of who I am, these symbols are deeply personal for they reflect my life as a mother and midwife, of new birth, nurture, love, compassion, the power of the resurrection and new life in Christ.
[*A stole is a long thin vestment worn by ordained persons as a symbol of their office and ministry. Deacons wear the stole diagonally across the chest from the shoulder, and it is fastened at the hip. Priests wear the stole around the neck with each end falling straight down the front of the person.]
The Rev'd Dawn Tilt (Prison Chaplain)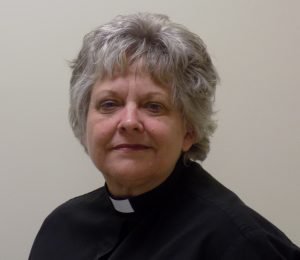 The Reverend Dawn Tilt is the Managing Chaplain at Parc Prison, Bridgend. Here Dawn reflects on her unexpected calling to minister in a prison…
If I am honest it started in the pub.
I had just attended the leaving service for the Anglican Chaplain at HMP Parc and a group of us congregated at the local afterwards to continue his 'Leaving Do'.
I wasn't in a good place spiritually or emotionally at that time. I had been Ordained 3½ years and had just left the parish where I had been the Non-Stipendiary Curate. I was questioning my calling to ministry, as I felt that I had failed in some aspects and that I had been let down in other areas. I couldn't see a way of balancing my full-time employment with parish ministry and believed that my Ordination had been a huge mistake and that I should walk away from the Church.
So, there I am, in the pub, having a pleasant relaxed evening and this guy who I didn't know kept asking me if I was going to apply for the vacant position at the prison. Of course, I wasn't going to! What did I know about prison ministry? Anyway, I didn't have the confidence and wouldn't know how to relate to the men etc etc. I left the pub that evening amused at the suggestion that I should apply but with no intentions of doing so. However, it was a bit like having Jiminy Cricket on my shoulder, nagging away, telling me to apply. That niggly little voice just wouldn't go away. Experience has taught me that when this happens you just have to 'go with the flow', do what you are being asked to do and leave the rest to God. So that is what I did. I applied for the position, was successful and started working at the prison in July 2004 and nearly 16 years later I am still there.
Prison Ministry is a 'rough edged' ministry and I love that. I can't begin to tell you some of the things I have been called and some of the awful things that I have seen, but I can't imagine ministering anywhere else at the moment. The people we meet are the pariahs of today's society, and some of them have done the most terrible things, but they are human beings who need care and support, as much, if not more than others. It is a privilege to share God's love for them through being alongside them.
It is not a ministry I would have had the confidence to choose for myself, and I remember the shock on a couple of people's faces when I asked for a reference – obviously they would never have thought of prison ministry as my calling either, but there you go. God's plans and our plans quite often don't align, it's a matter of riding the wave with him and seeing where it takes you.
The Rev'd Frances Wilson (Rector of Canton)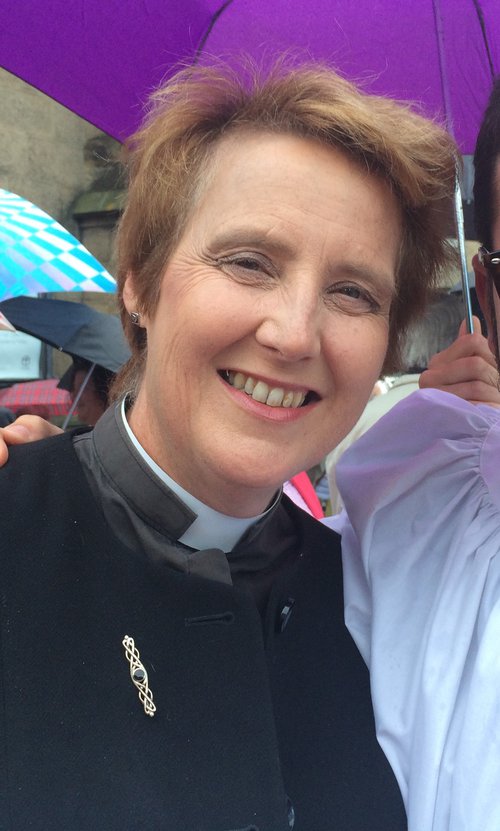 The Reverend Frances Wilson is the Rector of Canton. In this reflection she details her interesting vocational journey which initially led her to explore the religious life and make her first vows. Frances writes…
I remember homework set for RE in my first year at Grammar School: What do you want to be when you grow up? I knew I wanted to be a priest; however, that wasn't an option for me, a girl. So I wrote about being a missionary. Forward a few years and, haunting the religious section of the local bookshop as I did, I found Cardinal Basil Hume's book, Searching for God, about the Benedictine life (which he himself lived). Benedictines make three vows (and not the ones you expect!), Stability, Conversion of Life and Obedience. Being stable (committed to THIS community), Conversion (but also the opposite, always changing, growing), being Obedient (not doing as you are told, but a commitment to listening, to others and God). Deeply attracted, I went to visit the Order of the Holy Paraclete at Whitby and became an Aspirant, one who aspires to become a sister and tests this out through staying with the community when possible. I remember a conversation with the Novice Guardian, outside in the enclosed garden; she asked, 'Why a Sister and not a Deacon?' And I remember the overwhelming response in my mind; I want to be a priest! But that's not what I said… I became a Postulant on the 1st of May 1997 and a novice five months later. I learnt a lot! I loved a lot about the Religious Life but in other ways, the Life rubbed for me. Nevertheless, three years later I asked to take my First Vows (vows to live as a Sister for three years), which I did. At the end of those three years, though, I left.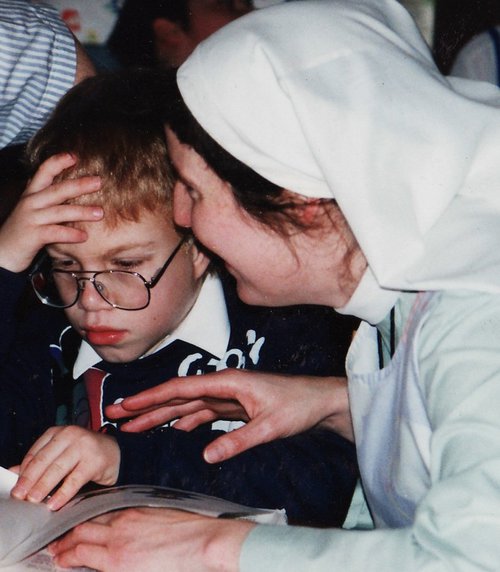 The Religious Life is a crucial part of the life of the Church; it sets before all of us the absolute response of love for God: living in Community, possessing nothing, loving all. What I didn't understand at the time is; if the way of life doesn't fit you, you can try to fit perfectly into the mould (you think) the role is, Perfect Nun (or Vicar or whatever) but if it's not the authentic 'you', it won't convince others and it won't be healthy for you.
So, I was back 'out in the world', but uneasily. I returned to work in the Children's Hospice, where I had been working as a Sister, and started again – in those very Benedictine words – to 'Consider your call.' Over a year later I chatted to a friend and said, tentatively, 'I've been thinking about becoming a priest' and she said… I wondered when you would get around to what is blindingly obvious!
I have been a parish priest in West and North Yorkshire and North Tyneside; in a ex-mining town, a large village with a garrison and a 'challenging' council estate. I have never known where my next calling would be and I've always been surprised by where that has been! Nothing was planned.
Two years ago, I took up the role of Bishops' Director of Ordinands, the role I have always thought I wanted. Only it didn't 'fit'! Parts I loved; the wonderful people who were 'considering their call' and offering 'something more' for God, but I felt disconnected and empty, not using the gifts (such as they are) that I have.
I offered this to God, and waited. Canton Benefice were looking for a Rector and everything in the advertisement sang in my heart! I have been here nearly six months and, though it's a strange time for us all, once again I feel I am where God is calling me to be.
Consider your call (says St. Paul); it's not about being wise, in the world's eyes, it's about listening to what God delights to offer you as a way of life which will fulfil what God has formed you for. And it you have done this, secondly we need to encourage one another. What if I had been brave enough, in the early days? No one said to me then, 'Frances, have you ever thought about being a priest?' In challenging someone to think about their vocation, you could be the very message from God they need to hear.
The Rev'd Edward Owen TSSF (Vicar of Margam)
The Reverend Edward Owen is the Vicar of Margam and also a Third Order Franciscan (Tertiary). Here Edward reflects on his call to be affiliated to a religious order...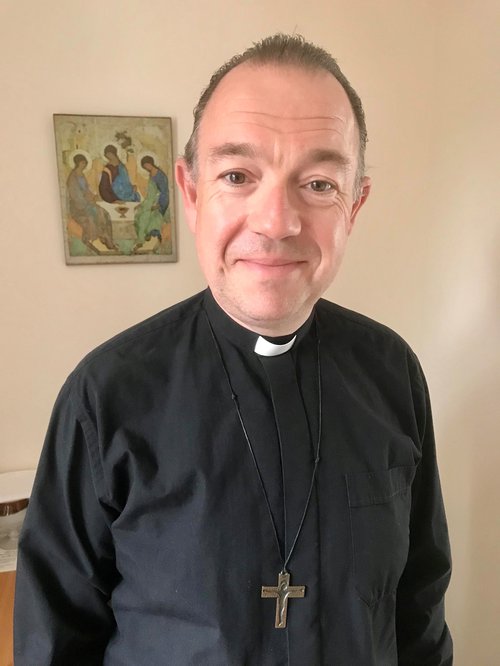 On 25th February 2006, I made my profession as a member of the Third Order of the Society of St Francis. This was something that I had explored over many years. I was drawn to the religious life whilst a student at Lampeter in the early 1990's and went on a number of retreats to religious houses, amongst them Alton Abbey and the Community of the Servants of the Will of God at Crawley Down. Yet there was something that held me back from making a lifelong commitment to be a monk. It was on discovering the Third Order that I found something that resonated with my vocational journey. Prior to going to University I had been a member of Friends of the Earth and I am an ethical vegan. The values of caring for the environment and of peace-making that I found within the Third Order made it something that resonated with my own experiences. We meet in small groups once a month and have an area day once a year where we renew our vows. An important aspect is the 'rule of life' which holds the tertiary accountable for the way in which they live and their commitment to their profession. The Third Order contains a very diverse group of people from the differing traditions within Anglicanism. For me this has been one of the great strengths of membership of the order.
The extract below from enquires material sums up well the Third Order.
Are you seeking a spirituality of joy? Are you looking for a community with a contemplative heart that pursues justice, peace, and the loving care of creation? The Third Order of the Society of St. Francis is an Anglican religious order for people of all kinds—single and in committed relationships, lay and ordained—who live by Franciscan principles "in the world." This is the order founded by Francis himself for those who were drawn to his way but felt called to live it out right where they were.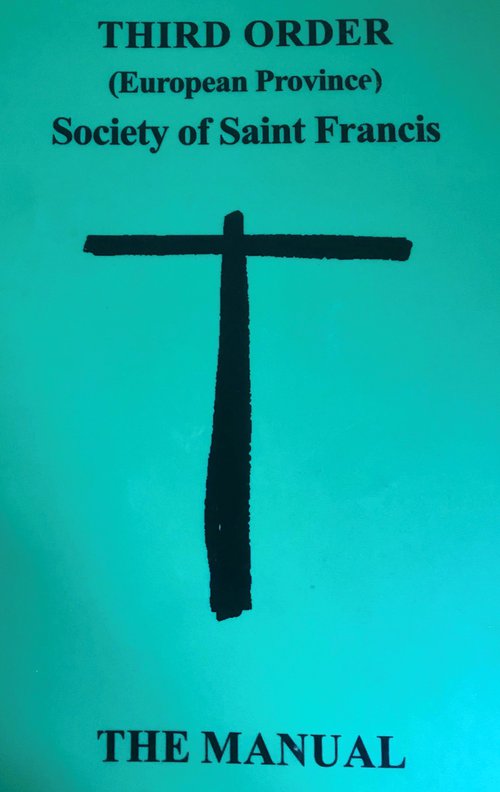 Francis of Assisi is one of the most cherished saints in the history of the church. But he lived and died eight centuries ago. What is so attractive about his way that people still want to follow it? Francis had a genius for seeing the face of Christ in everyone he met: bishop or leper, Christian or Muslim, friend or stranger. Francis faced some of the biggest questions of his day: How to respond to the growing gap between rich and poor? How to make peace between enemies? What is our relationship to the world God made? Where is God when we suffer? Because these are also the questions of our own day, Francis has much to say to us.
Francis took on the challenges of his time with humility, love, and joy. We in the Third Order today are companions on this same road. We invite you to explore this site and consider whether this way might be for you, too. In the name of Christ and in the words of St. Francis, we wish you peace and all good!
Simon Tugwell defines spirituality as "a way of looking at the world," and Franciscan spirituality as "a way of radical unprotectedness." That is about as apt a definition as it is possible to give.
Prayer leading to action, generosity and joyousness of spirit, careful discernment, and close following of the gospels, should characterize the Tertiary's way of seeing and being in the world today, just as they did for St Francis.
The Rev'd Caroline John (Hospital Chaplain)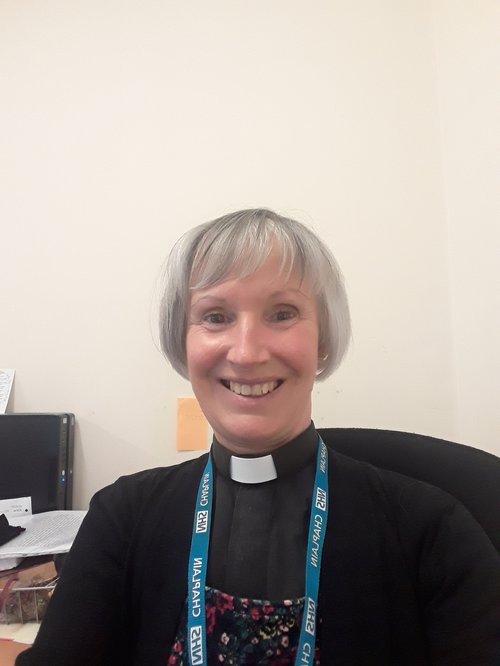 The Reverend Caroline John is a chaplain in the Cardiff and Vale University Health Board. In this reflection she explains how she has always known that hospital chaplaincy was for her...
I have always hesitated to say God called me to hospital chaplaincy as that sounds rather grand and a bit of a cheat, when it's something I've wanted to do for over 35 years. When I went to my selection conference in 1986 I already knew that hospital chaplaincy was where I wanted to be. As Christians we believe that the God who calls also equips and it took God the next 32 years to equip me. They were wonderful years of bringing up a family and doing a whole variety of different jobs, but the pull to chaplaincy never left and it was one of the best days of my life when I was offered the job of Chaplain here in Cardiff.
There is so much to love about being a chaplain and I firmly believe I have the best job in the world. Seeing the remarkable resilience of the human spirit in the face of appalling tragedy and watching an ordinary person become extraordinary. Journeying with people as they navigate the rockiest of life's paths with honesty and courage. Being able to offer, in the face of death, the sacraments of baptism and Eucharist and witnessing the peace that they give. Stepping behind the curtain into the horror of catastrophe and connecting with a stranger as human and priest. Praying with a person as they cross the threshold of heaven. Exploring with someone who has never given God a second thought and now, facing eternity, starts to search for the Divine.
I have no idea at the start of each day what will take place. But by the end of the day I will have seen what can happen when the hope of Christ meets despair and fear head-on; when chaos is stilled by God's peace; when the journey from death to resurrection is begun. I have the best job in the world because I see this every day and, best of all, know that this is exactly where God wants me to be.
The Rev'd Wayne David (School Chaplain)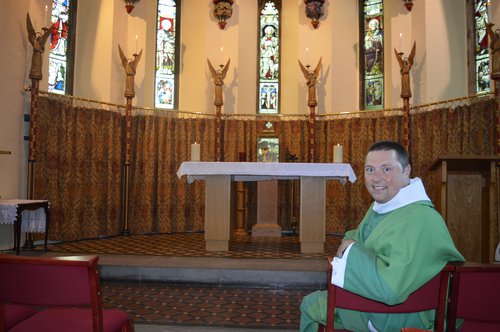 The Reverend Wayne David is chaplain at Llandaff Cathedral School and here he explains how he has combined two vocations, to teach young people and to ordained ministry, in his current ministry...
My name is Fr Wayne David and I am in the very privileged position of being the longest serving Chaplain in the Cathedral School, Llandaff. Before entering ordained ministry, I was a primary school teacher. Having ignored a rather long calling to the priesthood, I eventually gave up my career to study Theology at Oxford only to find that, after a term as an ordinand, I was missing my other calling - working with children. However, the call to serve God as a priest had not disappeared, so I managed to train a few years later in Cardiff whilst still fulfilling my teaching vocation in Newport.
After serving a few curacies in the Llandaff diocese, I was able to marry my teaching and priestly vocations by being appointed as the Cathedral School Chaplain. Now I am the Spiritual Leader in the school and also teach RS and DT to a variety of age groups. As a Christian independent school, it is my responsibility to keep the Christian beliefs alive and active in our community. It is a real honour and privilege to serve the whole community as a school chaplain. To be able to walk alongside our members on their journeys of life and faith, both young and older, is truly amazing! As Chaplain, I am available to all stakeholders of all faiths and none. I am also Chorister Tutor to the Llandaff Cathedral choristers who are members of our community. Not one day goes by when I am not needed – as a soundboard, friend, leader, listener, teacher, companion, counsellor and the like. I also administer the Holy Sacraments on a regular basis and lead daily prayer in our School Chapel along with weekly services in the Cathedral. I feel so honoured to have been called to this vocational role.