Ministry Support Scheme
Financial support during Covid-19
Updated 26 March 2021 for Quarter 1
Thanks to the continued generosity of the Church in Wales, we are pleased to announce further updates to the Ministry Support Scheme, financial packages that will help churches manage the ongoing financial impact of Coronavirus. Diocese of Llandaff are using these grants to fund additional Ministry Support Schemes to help Ministry Areas.
Overview of the scheme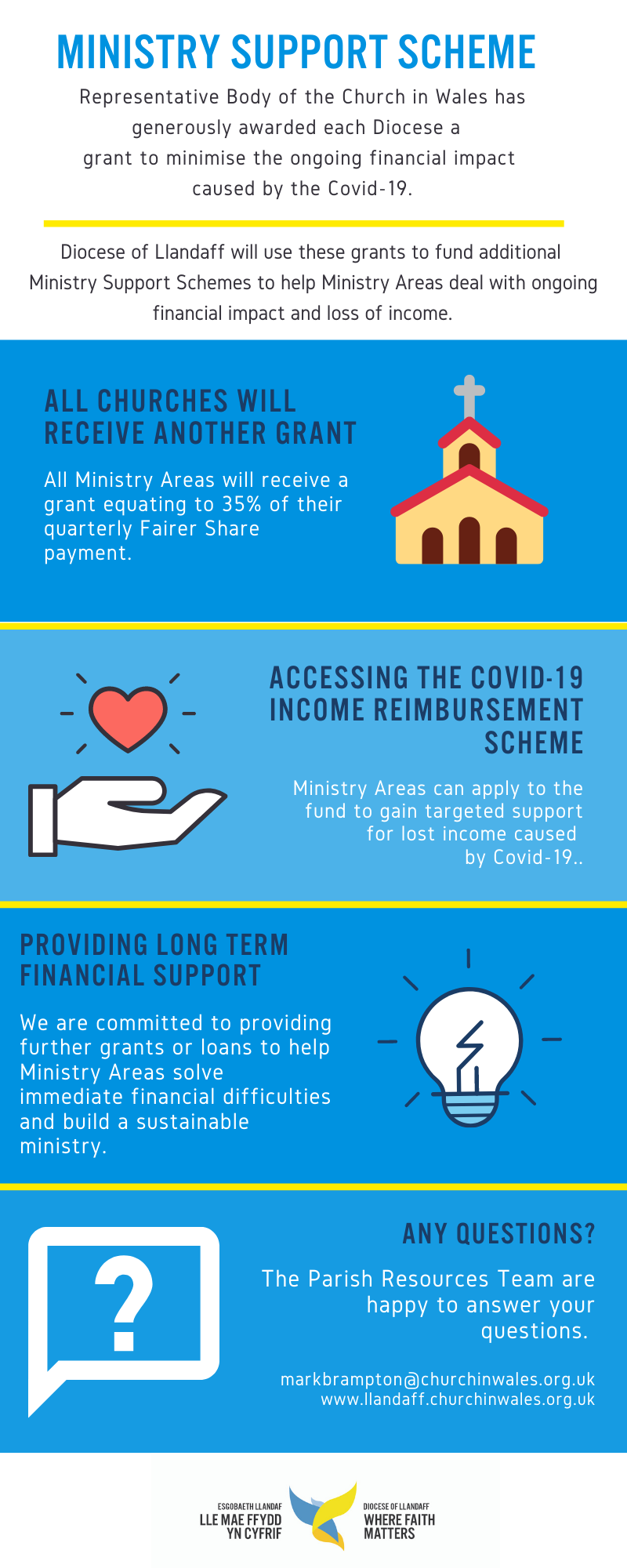 1, All churches will receive another grant
All churches will receive a grant equating to 35% of their Fairer Share for Quarter 1 2021.
The grant will be payable directly to the Ministry Area beginning of April.
2, Covid-19 Reimbursement Scheme (previously the Emergency Support Fund)
Scheme now closed for new applications.
A further £100,000 has been allocated to this fund, in addition to the £200,000 previously made available, to compensate for income lost directly as a result of the epidemic.
A reimbursement grant may be awarded to the Ministry Area (or church within it) towards loss of income, while it has remained active in ministry serving the whole community, especially foodbanks, debt advice etc.
Loss of income is likely to be from cancellation of key fund-raising events, hall rental income and income from visitors.
A two-stage process is in place for bids up to £2,500, and for bids up to £10,000. All applications can be made using the single point of access on our Diocesan Web page. NB. more information will be required for bids up to £10,000.
Funds are limited and once the threshold has been met applications will be closed. If any funds remain unspent at 31 December 2020 the scheme will be closed and any funds will be redesignated to other areas of support.
Please read the criteria before completing the application form. If you have any questions, please contact Mark Brampton.
3, Support for our Cathedral
The Diocesan Board of Finance (DBF) has awarded a supplementary grant to the Cathedral as the Mother Church of our diocese. The Cathedral is particularly severely impacted by the loss of revenue from large diocesan services and concerts.
4, Providing longer term financial support
The remainder of the RB funds will go towards providing longer term financial support for Ministry Areas. Future support may be in the form of further grants, loans or forgiveness of debts (such as arrears).
Future support will be prioritized to assisting Ministry Areas as they progress with their financial resilience. A framework of review could include:
A review of ministry area finances, assets and stewardship activities.
Analysis of the measures the ministry area has undertaken to minimise financial impact, such as reduction of operational costs, effectiveness of giving campaigns and income generation.
Evidence of moving towards ministry areas.
Existence of a plan for the life of the ministry area, including a financial plan and delivery of the Diocesan Vision Where Faith Matters.
Evidence of a spiritual and community energy to tell joyful stories, build capacity for good, and grow the Kingdom of God. Where there is no energy there, consideration will be given to planting a resource church or closing the building and facilitating that process sensitively.
Strategic location: is there a Hub Church or a Visitor Church that is worth preserving for architectural, historical, community, or income-generating reasons, and can turn tourists into pilgrims?
Any questions?
Mark Brampton and Jan Boyce from the Finance Team are always available answer any questions about the Ministry Support Scheme.