Michael Lawley: Lenten Reflection
Michael Lawley, Chair of the Llandaff Diocesan Board of Finance, reflects on how this week's Lent course has impacted him: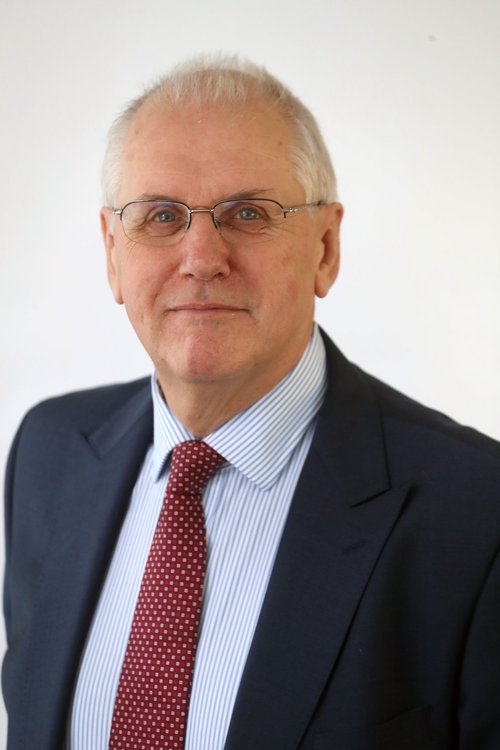 The subject of week 4 of Trystan Hughes book "Opening our Lives" is "Open our Ways to your Will". The daily reflections revolve around the need for us to open ourselves and our minds, and let God's will embrace us and for us to respond. These themes are especially relevant in this time of pandemic when we have all have more time to reflect and be more solitary than we would normally be. That is a positive that many of us take from these difficult times.
Opening our ways to God's will manifests itself in many ways as Trystan's series of reflections show. I remember many years ago listening to Rowan Williams on a Thought for Today item comparing God's interaction with us day to day as somebody pushing their hand against a membrane or a tent covering between us and that person. We suddenly realise that there is someone there all the time but can sometimes forget until we get that reminder of the hand pushing through..
In Sunday's reflection Trystan talks about signs and using the term sign rather than miracle. I found that helpful as for most of us big miracles do not occur in our lives but small signs do and they can be personal and very significant as the goldfinch was to Trystan. He is right that we should not question whether these are coincidences or what the meaning of them are because as he said it will drive us mad. The important thing is just to accept that they have occurred and be receptive and responsive.
For Monday he talks about Jeremiah and the Word of God. He reminds us that words in themselves can often achieve nothing. We have all read social media postings or the incessant emails and thought what is this actually saying or achieving other than taking up your time. Words need to have an impact and when used carefully can produce a response and a reaction. However, what Trystan reminds us is that the Word is there all the time and that we do need to stop and reflect and listen to it when we see it.
Tuesday's reflection about idols is especially relevant to life during the pandemic. We have all had time to reflect on the material satisfactions of life – holidays, shopping and eating out for instance. Trystan reminds us that much of this can become modern idolatry, and ways of self-gratification and quite superficial in the greater context of life. Jesus did not want to be seen as an Idol and we need to be careful to keep idols and self-gratification in context and cut through it all to see what God's will is and find that deeper two-way relationship which is there for us. Wednesday's reflection is about bodies and the component parts of bodies. It reminds us that as Christians we may have very different ways and traditions but we are all still part of that one body of Christ. At this time of change and transition to Ministry Areas within Llandaff it is a timely reminder that God sees us as part of a greater body and churches and parishes starting to work together to find common ground is what we should be doing. The analogy with the body reminds us that we are not a series of private clubs but we all part of that greater whole and need to show the respect and willingness to be part of it, but we can still have our own identities within that body.
On Thursday the reflection deals with hyperbole and exaggeration and how Christ used it to effect. That jolt which his words give us make us reflect on our actions, and that they do have consequences, that we need to respect each other and be mindful of the consequences of what we say and do. When we do this, then we do start to see his will and can change our ways.
Friday's parable of the lost sheep reminds us that God does not give up on us even if we at times give up on him and have suffered the "disappearance of hope". God's will and the signs and the words give us hope and if we open ourselves to his will we will find it in abundance – be it in the goldfinch, the realisation of the vacuous nature of some social media postings or the realisation that we live within a materialistic sometimes hedonistic lifestyle that we need to pull back from. When we have hope, we can work to give others hope and help them find light at the end of the tunnel.
In Saturday reflection there is a reminder that we seem more and more to be obsessed in life with perfection. Perfection in photographs, houses, cooking, interior design, all of these can become an end in themselves. The realisation of course is that nobody is perfect, and this veneer of perfection portrayed by advertisers, the press, TV and film is very thin and once cracked can have traumatic impacts on people. Trystan's reflection talks about embracing the imperfections which we all have, and that if we are open to God's will those imperfections become a part of us to be celebrated, but also to be worked on.
As the week's readings closed, I found that I had been on a journey of reflection into what occurs when we open our ways to gods will. Signs occur to make us realise that he is with us, we read through words to see the Word, we can see through the idols of materialism and find the deeper things in life, and how we should pull together and not pull apart, how Jesus' words can jolt us into seeing things as they should be. When we have that deeper contact and strip away everyday life for a time we find hope and can share that with others, and we can all can embrace our imperfections. I hope you enjoy this week's journey with Trystan's book. Just as I wrote down these last few words, the large buzzard that from time to time comes down to spend a short while at the end of our garden landed on a branch of a tree and stared straight at me. Well - that is a sign.