Eco Eglwys

ENVIRONMENTAL POLICY
The science is clear, the time to act is now. We understand that to live fully in love for God's Creation, we must take our responsibility of care seriously. In practice, this means...
Becoming carbon net zero by 2030
Becoming a registered Eco Diocese
Offering support to help church buildings adopt cleaner energy and heating systems
Increasing biodiversity practices
Divesting from climate damaging activities by 2030
These commitments and more are the foundation of our new approved Environmental Policy.
What is Green Energy? Read our FAQs.
OUR ECO CHURCHES
We're proud to say that 38 of our 224 churches have registered with the A Rocha UK Eco Church programme, and 15 have even been issues with an Eco Church Award!
Over the next year, we'll be showcasing their success and delivering webinars on how individual churches can register and become awarded.
In March of 2021, we're delighted to say we were awarded the Bronze Eco Diocese Award!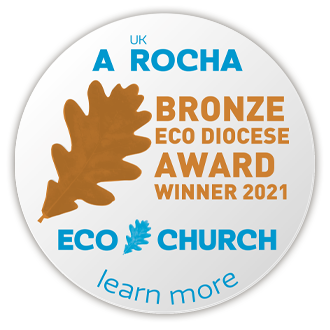 ENERGY AUDITS
The Diocese is offering to pay 50% of church's energy audits completed by sustainability consultant Matt Fulford of Inspired Efficiency. Energy is one of the largest areas in which we can decrease our carbon footprint and save costs. The DAC now require an audit to have been carried out before considering a faculty application for a new heating system.
ECO EGLWYS
To go along with the publication of our policy, we're launching a brand new campaign called Eco Eglwys, in which we'll be celebrating our Eco Churches, offering help and support for PCCs and churchwardens, encouraging environmental sustainability and talking about ecology and creation. Keep an eye out for updates on this page and our socials!
HOW CAN YOU HELP?
You can support our drive towards environmental sustainabililty by doing the following:
Participating in a Climate Sunday
Delivering a sermon or liturgy on ecology and creation (and make sure to let us know!)
Registering with A Rocha UK Eco Church
Attending one of our watch parties and webinars later on in the year (details forthcoming)
RESOURCES