Domestic Abuse

Last November we ran an outreach social media campaign called Behind Closed Doors. Coinciding with the 16 Days of Activism global UN campaign, from the 25th November to the 10th December we released resources, blog posts, guidance, advice, statistics and social media materials. The theme of this campaign is #BehindClosedDoors, as we look at open the door on abuse to shed light on just how widespread the problem is, and the connotations of secrecy and shame we're trying to combat.
If you would like to contribute a blog post on the topic of domestic abuse (anonymously or not), please email our Digital Communications Officer. We're particularly interested in lifting up the voices of LGBT+ and BAME people.
All campaign materials are designed to increase awareness of the terrible issue of domestic abuse in our communities, particularly as lockdown has made this problem so much worse.
Keep an eye on this page in the coming weeks and particularly during the campaign period (25/11 - 10/12) for resources and further information.
'We can live differently' - A Message from Bishop June
Social media campaign materials
We've designed a Facebook profile frame that you can use on your personal Facebook or page (e.g. church, group etc) to spread the word about the Live Fear Free Helpline, a 24/7 lifeline of support for those experiencing domestic abuse. It was established during the COVID-19 pandemic by Welsh Women's Aid and the Welsh Government to try and combat the awful rise in domestic abuse during lockdown. Below as an example of the frame being used, click here to try it.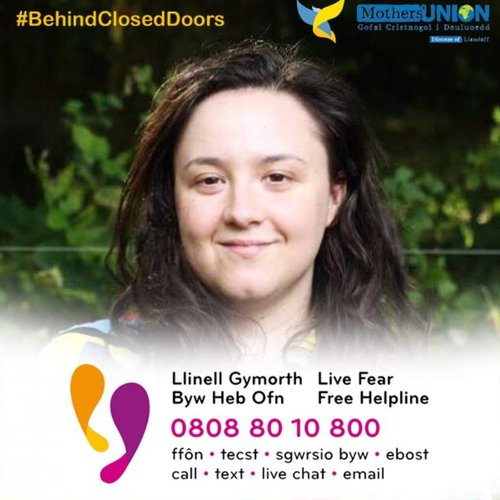 You can also use this image as a header on your social media accounts:
Resources
Services
Mothers' Union Chaplain Delivers Services
The campaign will open and close with online services from the Rev Sandra Birdsall. On the 25th November and the 10th December, there will be online services on the topic of domestic abuse live-streamed from this Facebook page.
Llandaff Cathedral Light a Candle Service
Liturgy for Clergy to Use
The Rev Caroline Downs has prepared this liturgy for clergy to use in their own services. We would love for clergy to use this during our campaign period, but it is available all-year round and we encourage you to take it's messages beyond this campaign.