Mountain Ash pupil wins £1000 for supporting key workers
A pupil from Mountain Ash Comprehensive School has won £1000 for a local charity after delivering care packages to key workers.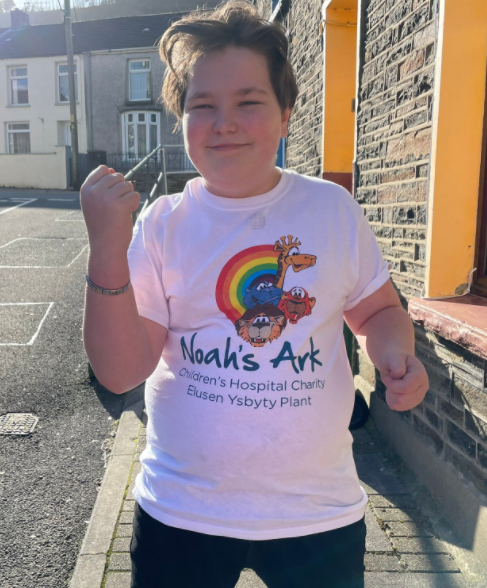 Alfie Ford delivered care hampers and bags of happiness to key workers in his local area to thank them for working tirelessly throughout the pandemic. This was Alfie's first time taking part in My First Give, an initiative run by First Give charity who work with secondary school students to engage in social action in their community. The prize money has been donated to Noah's Ark Children's Hospital charity.
Alfie said, " I am so happy to have won the £1000 for this months First Give's Helping from Home competition on behalf of Noah's Ark charity. My social action idea was to create key work hampers and little bags of happiness which would be a wonderful thank you to all of the key workers who have been working tirelessly through the pandemic.
I have really enjoyed the social action and all the opportunities that I have had from this amazing competition.
Alfie delivered hampers to nurses, firefighters, delivery workers, teachers, Transport for Wales staff and local vicar Fr Ben Rabjohns, Parish of Penrhiwceiber, Matthewstown and Ynysboeth.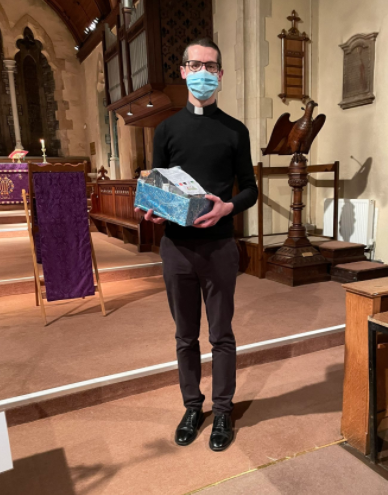 "I was so touched to receive one of Alfie's hampers," said Fr Ben. "I have been so impressed following the work he has been doing in the local community, and the skills he has been developing. It's been great to get to know him through his charity work."
The parish also donated money to Noah's Ark charity and handed Alfie the cheque at a special, Covid-safe presentation.
Alfie's mum, Alison, said, "I am so proud of Alfie - he did this all off his own back. He's a very determined young man! I'm absolutely thrilled that he won the money for charity."
Alfie is the second pupil this year from Mountain Ash Comprehensive to have won money for a local charity thanks to First Give. In February Amy Macintosh won £1000 for Lee Gardens Pool for delivering afternoon tea and gifts to nine elderly neighbours.
Religious Studies teacher David Church, who has been supporting Alfie and Amy, said, "I am incredibly proud of what they have both achieved. It's been a huge pleasure and privilege to walk with them during their First Give Helping From Home project. Their energy, enthusiasm, determination and thoughtfulness has been a joy to witness."
Alfie began his First project on 29 January and delivered his final care package on 26 February.
"Alfie is a real credit to his family, the school, local community and the local parish. He has a bright future ahead of him and really is my lockdown hero, said David Church.
"We've been blessed by the Lord to have young people like Amy and Alfie living the gospel values during these dark days."