Schools receive anti-racism training for Refugee Week
Church in Wales primary schools in the Diocese of Llandaff are receiving anti-bullying training this Refugee Week.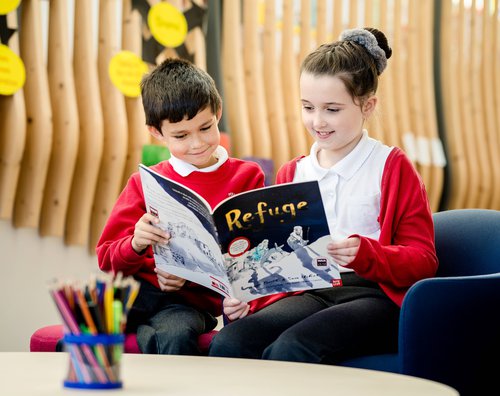 National Religious Education Advisor Lat Blaylock will present lesson strategies for studying race and racism in the context of RE. Schools will receive free resources giving examples of interactive, challenging and well realised ideas from Muslim, Christian and other sources. Resources are suitable for children ages 7-11 and have been created in collaboration with 30 RE teachers from Black, Asian and minority ethnic communities.
Beccie Morteo, School Development Officer for the Diocese of Llandaff, says, "Creating a culture of belonging and community is of huge importance to our church schools. With the introduction of a new Religion, Values and Ethics curriculum in Wales we want to support schools to develop inclusive lessons that reflect the diverse experiences and contributions of black and minority ethnic communities.
"Celebrating diversity is key to children becoming ethical and informed citizens of the world."
This training is part of a week long series of Refugee Week activities for Church in Wales primary schools.
St Mary the Virgin Church in Wales primary school are organising events based on the theme of friendship.
Headteacher Nicki Pritchard says, "It is really important to observe Refugee Week in all schools to give our school communities an understanding of what it means to be a refugee at an age appropriate level. At St Mary the Virgin CW Primary School we are undertaking a range of activities across the school to give our children the opportunity to think about what it might be like to have to leave their home and not return.
"Our value this half term is friendship and I want the children to know how important friendship is to us all and what they can do to be a good friend to everyone.
Events at St Mary the Virgin school include:
Fr Dean Atkins, St Mary's Church, Butetown, talking to the children about Croeso Butetown, a community project for sponsorship of a Syrian refugee family.
Greeting each other in the 31 different languages spoken in the school community.
As part of theCynefin Arts Council Project, pupils will visit Cardiff Bay to explore its multicultural heritage. This is also part of The Great Walk Together programme which is part of the Jo Cox Foundation.
Refugee Week Prayer