Volunteering as a hospital chaplain during Coronavirus
We meet the Reverend Dr Angela Cooper, Assistant Curate in the Benefice of the East Vale. She tells us about her previous career in medical research, her calling to the Church, and explains her motivation for volunteering as an honorary chaplain at the Princess of Wales hospital in Bridgend.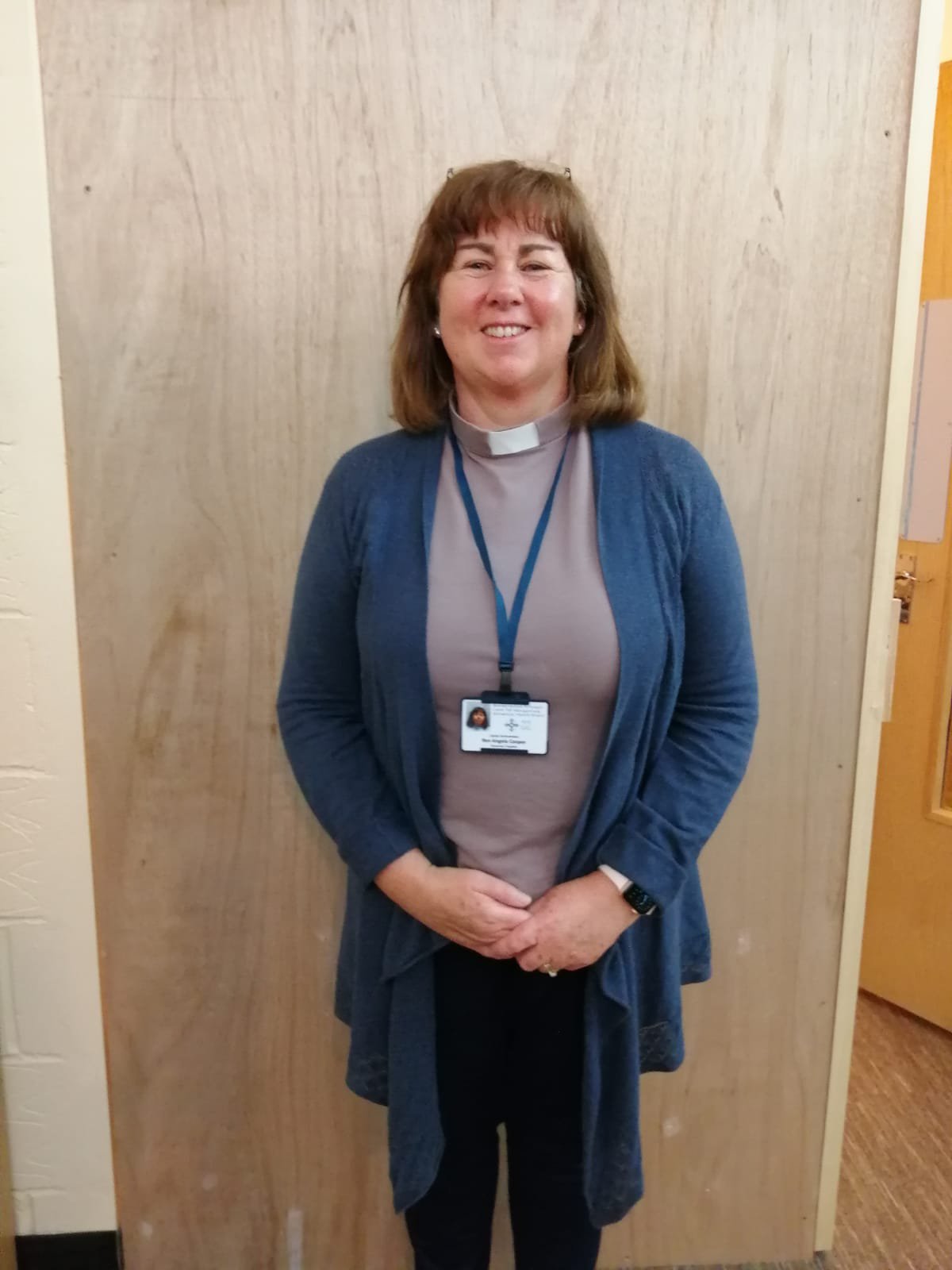 Tell us a bit about your background. What were you doing before you joined your team in the Diocese of Llandaff?
I am from Bolton in Lancashire, where my family still live. I've also lived in Sunderland and Derbyshire before moving to South Wales in 1992. Having done a degree in Biomedical Science in Sunderland, I then worked in Cancer Research Laboratories in Nottingham University Hospital. In this role, I completed my PhD, studying the viability of cell culture-based tests for anticancer drugs.
After getting married in 1991, my husband and I moved to Cardiff in 1992. I worked in the Heath Hospital, again with Cancer Research funding, in the IVF laboratory. We bought our first house and moved to Llanharan in 1994, and in 1997 our first child was born, followed closely by number two and three. I had a five-year career break but never went back to work in medical research. In this time, I looked for a church to attend with the children.
Church has always been a big part of my life. My mother was an elder in the United Reformed Church we attended. Wherever I lived, I always looked for a church, and in Llanharan, the Anglican Church felt like home. I had the children baptised and started attending a Toddler Church on Sunday afternoon. As the children grew older, they joined Sunday School, and I joined PCC. I chaired the PTA at my children's school before becoming the chair of the school governors.
Within Llanharan Church, I was the mission secretary and then the vicars' warden for many years. I always enjoyed learning more about my faith and attended many courses provided by the church. I did an Alpha course, which empowered me to do more in the church. I attended Lent and Advent courses and I completed the Living Faith Course. All these things led me on the path of vocation discernment, which took many years. The encouragement of others and taking on new roles, especially with children's ministry, nudged me along the path to ordained ministry. It wasn't always easy, but 'in Gods time', all things came together. In 2016 I was accepted into training as an ordinand. I trained part-time at St Pardarn's and was ordained deacon in 2018, and priest in 2019. I am currently in my curacy in the Benefice of the East Vale, as a self-supporting assistant curate.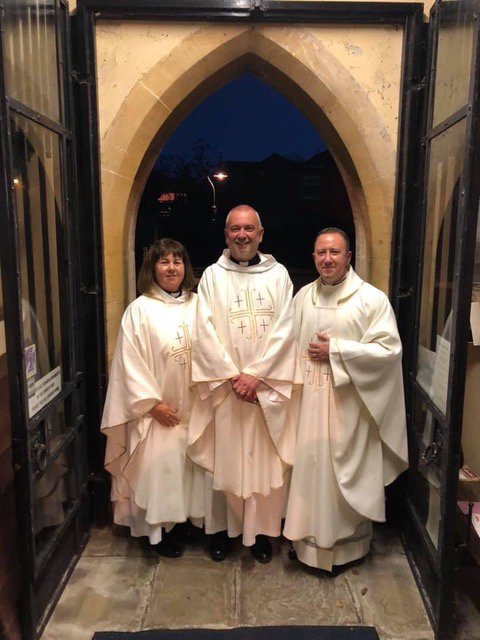 What is your role in the Benefice of the East Vale and can you tell us about the team you work with?
The Benefice of the East vale is in the rural Vale of Glamorgan and includes six rural village churches, along with three Church in Wales primary schools. I work within a team of clergy, comprising Canon Martyn Davies, the Rector and Area Dean of the Vale Deanery, and Fr David Morris, Team Vicar and Diocesan Director of Ordinands. They placed me in this Benefice for training and I stayed for my curacy. It is great to work in a team with other members of clergy. We meet regularly for prayer and catch-up meetings. We work together on the outreach in the Benefice but have our individual responsibilities to cover worship, schools work and pastoral visiting.
What does a typical week look like for you?
As a self-supporting priest, I have more autonomy with my weekly schedule, as agreed with the Rector. Typically, I'm involved in school worship, team meetings, pastoral visiting or Home Communions, alongside Governing Body work in one of our schools. On weekdays, I take time for prayer and prepare for Sunday worship. I usually lead two or three services on a Sunday, as each of our six churches have a service every Sunday.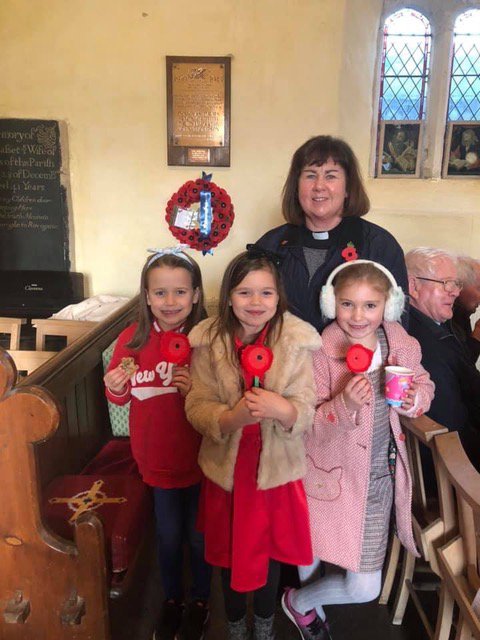 You are volunteering as a chaplain at a local hospital. Can you describe your work there?
The volunteer work as a Chaplain in Cwm Taff Morgannwg University Health Board Trust, based in the Princess of Wales Hospital, Bridgend, is in its early stages. I volunteer two afternoons every week. The volunteers are in place primarily to support staff in these unprecedented times for the NHS during this pandemic. The hospital has set up recharge rooms for staff to come for some quiet down time, and also a sacred multi-faith room for prayer and reflection. As volunteer chaplains, we spend some time in these places and we can offer a listening ear for the challenges they are facing. They may request us to visit patients on the non-covid wards. This is important, as patients can't have family visitors during the lockdown, as the Cwm Taf Morgannwg University Health Board follows Government guidance on hospital visiting. We work alongside the permanent chaplain, Hilary Pritchard, helping her with day-to-day tasks.
What was your motivation for volunteering?
At the start of lockdown, I wanted to find something that I could do to help in this pandemic. When an email arrived from the diocese for chaplaincy volunteers, I had a genuine sense that this is something I could do. In training for ministry, I had tried to get a hospital chaplaincy placement, and it never worked out, but this time it seemed the perfect time. The pastoral side of the role, not just for patients but also for staff, really appealed to me at this stage of my curacy.
What else is going on in your parish? Are there any projects where the church plays an important role?
The Benefice is very active both locally and further afield. We have a strong link with a parish in Sweden, Lagunda Parish. I have visited twice with a group of parishioners and it is great that we can grow together in faith and learn from each other. We also have a link with the charity, Citizens UK. We are running two projects at present. One is with our schools (a young-person leadership project); the second is a refugee welcome project, which is running alongside a deanery refugee sponsorship programme called Creoso Cowbridge. I lead the project across the deanery, with an aim to bring a refugee family to Cowbridge. We arranged for a family to arrive later this year, but this is on hold in the current crisis.
How has your parish stayed connected to your congregation and the wider community during the Covid-19 pandemic?
In the Covid Crisis, we have been learning quickly about digital technologies. We are also using telephone calls and writing notes and letters. We decided early on as a team that Zoom was the best way to worship online in our setting. In a rural setting, people can feel isolated and seeing people online brings a sense of us being together. Over the weeks, we have tried fresh things regarding music, images, and different people to read and pray. As a team, we have prayed on Zoom every day of the lockdown and parishioners have joined us many times. On Wednesday, we have Morning Prayer and a virtual coffee morning. We have also recorded worship for the schools, which goes on YouTube. We are thinking about supporting children in Year 6 as they leave their primary schools.
A benefit of virtual worship on Sundays is we can welcome people we don't normally see in Church; like visitors from Sweden, and family and friends that do not live in the Benefice. Even our local MP, Alun Cairns, has joined us.
Finally, when you're not working, what do you like to do in your leisure time?
Most of my leisure time still revolves around family time. We love to do things together; theatre trips, concerts and holidays. I enjoy walking, especially with my two dogs. In lockdown I have rediscovered my love for knitting, which I realised allows me to clear my mind, and I have recently taken up Bible journaling.