Church Schools Lead the Way on Refugee Week 2022

Refugee Week is a UK-wide festival celebrating the contributions, creativity and resilience of refugees and people seeking sanctuary. Running from 20th – 26th June, this year communities have a wealth of resources to tap into and the Diocese of Llandaff's church schools are leading the way.
Rebecca Morteo, Head of Education at the Diocese of Llandaff said, "Refugee week is a time to celebrate the contributions of refugees and people seeking sanctuary. For schools it's also a time to learn more about why people may seek sanctuary and how we welcome others. Developing ethical, informed citizens is a core purpose of the new curriculum for Wales and understanding similarities, celebrating differences and including everyone within our communities and beyond is a key part of this."
St Mary the Virgin Church in Wales Primary School are hosting Refugee Week activities with the help of its connected church to bring schools together to celebrate the cultures and diversity it is proud to have in its school and community.
Nicki Prichard, Headteacher of St Mary the Virgin Church in Wales Primary School said, "We've got an action-packed week and we always start Refugee Week the Friday before with the day of welcome, where we look at the Welcome greetings for the children, the languages that reflects our whole school community, and making sure that the concept of welcome is really understood across the school.
"We need to get children understanding the concept of welcome, living together, learning together, learning with each other, and from each other, and getting the basic values right in their lives so that as they grow older, they're able to critically evaluate different aspects of things that they've heard and know where to seek how, where to ask for help, and really develop that understanding how a very early age."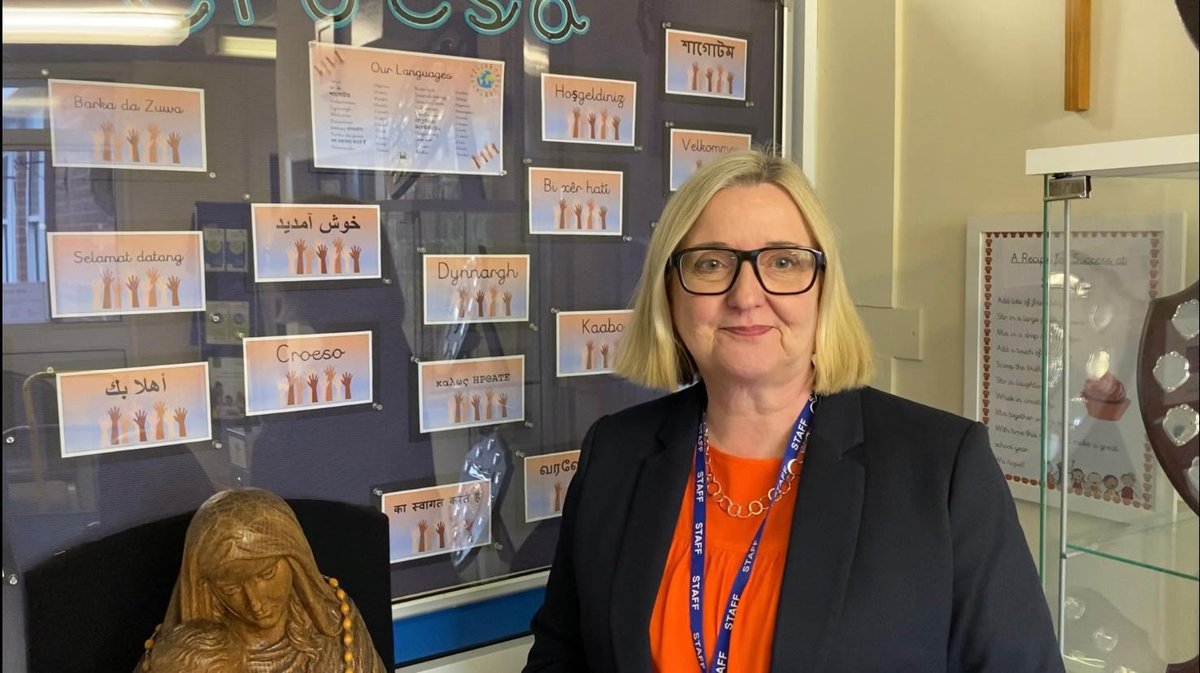 Father Dean Atkins, Priest of St Mary the Virgin Church, Cardiff, is excited to involve his church community. He said, "Butetown has been built on immigration, and people coming from different parts of the world to create this community, to create the city, so we celebrating our diverse culture, the diverse mix of people and saying it's okay to be different.
"We [St Mary's Church] are well placed in the city centre to be able to see there the need for those who are seeking sanctuary."
Sanctuary Sunday is the last Sunday of Refugee Week. Rebecca suggests, "Churches may like to invite schools to share the work they have done in refugee week. They might ask a child to read one of the poems from the book "On the Move" by Michael Rosen which has been gifted to all schools by the diocese or children may like to share their own thoughts of poems."
Father Dean said, "Being involved in Refugee Week raises the profile for one week of the year, but it's all about creating a community of welcome where we care for people regardless of their faiths and background, that we don't just care for people who are like us or people who aren't Christian.
"We have a responsibility to create a community which is strong and cohesive and vibrant and built on love. And that's what's at the heart of God's Kingdom. We are extending that to any and all, particularly including those who are fleeing danger and seeking sanctuary in communities and countries. It's a call from Christ, who did reach out to the foreigner in the gospels, and we're just trying to do the same."
Refugee Week Resources for Schools, Churches and Communities
This year Refugee Week coincides with the Churches Unlocked Festival. St Mary the Virgin Primary School will be working with St Mary's Church as part of the festival with a series of activities in school and in church during the week. There are over 50 events happening across 10 churches at the festival including a celebration the story of Betty Campbell with multiple performances in the week of the play 'Betty Campbell: A journey through Butetown' and a guided walk on Saturday 25th June beginning at Central Square and finishing in the Bay.