Churches deliver free dinner for those alone on Christmas Day
Churches are giving the gift of company to those who are facing Christmas alone this year.
Volunteers from the Parish of Aberavon and St Fagan's Aberdare are spending Christmas Day delivering food and gifts to people who may otherwise spend Christmas alone.
Normally up to 40 people from the Port Talbot area would gather at St Theodore's church hall for their annual Christmas Day Community Lunch. This year, because of Covid restrictions, volunteers are packing parcels, preparing Christmas dinner with all the trimmings and plating them up to be delivered to guests who otherwise would attend in person.
"This is Christianity in action," says Fr Ben Andrews, Parish of Aberavon. "This is our opportunity to share gifts of hope and joy at this time of year. It's our way of giving support to people in our local community in these dark and difficult times."
---
People who are on their own will get to see someone on Christmas Day.
---
Anne Griffiths, who has been volunteering for many years, says people were really excited to hear it would be going ahead again this year. " People were really disapointed that we could do it last year because of the pandemic. So when they heard we were doing Christmas Day deliveries they got really excited.
"It means people who are on their own will get to see someone on Christmas Day."
Over in the Cynon Valley, church volunteers are delivering 60 Christmas dinners and gifts to people who may otherwise spend Christmas day alone.
Due to the recent spike in Covid cases, Aberdare St Fagan's Church cancelled their original plans to host the Company at Christmas event at St John the Baptist Church in Wales School and will instead take Christmas to their guests in the safety of their own homes.
Volunteers have spent weeks collecting donations of food and gifts from the local community. Pupils from St John the Baptist school donated hundreds of Christmas treats, such as tins of chocolate, mince pies, gloves, scarves and toiletries.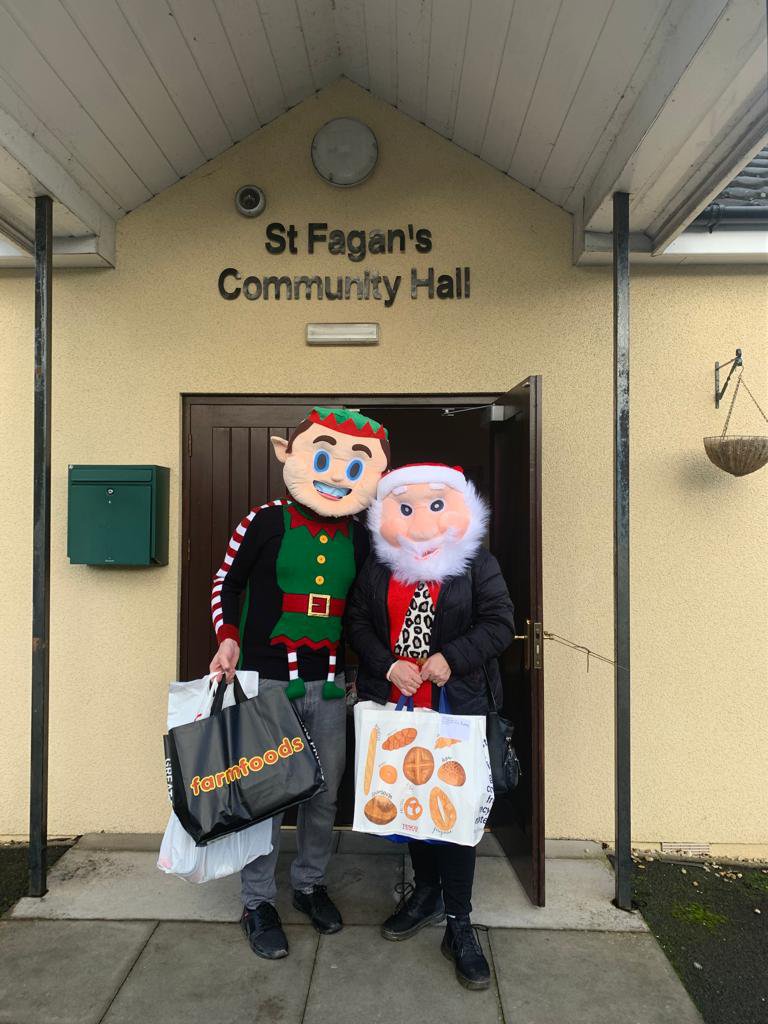 Fr Richard Green, Parish Vicar says, "The parish originally planned to host Company at Christmas at St John's School where those who are alone at Christmas were invited for Christmas dinner, fun and games and most importantly good company.
"Because of Covid we decided it was too great a risk for our more vulnerable guests and volunteers to be together, so we came up with another way of sharing the love and joy of Christmas.
"After our Christmas Day service our team of festive volunteers head to the church hall kitchen to cook Christmas dinner with all the trimmings. We'll be checking our list twice, putting on our Santa hats, gathering up the gift hampers and jingling our bells all the way to our guests front door.
"Churches are well placed in the community to offer support and comfort to the most vulnerable and Covid has seen that need increase. The Christmas message is about hope and joy, and this is our way of living out the God's love in the world."
Fr Richard adds, "Fortunately all our guests have been good this year, so everyone gets a present!"
---
Christmas may come once a year but the need to help others happens every day
---
Angela Clarke, Company at Christmas volunteers, says, "We need people to know now more than ever that God's love surrounds us all. It's important that Christmas feels special this year as increased Covid rates are causing some families to rethink their Christmas plans.
"We don't want anybody feeling lonely or isolated and we pray that when they hear the doorbell on Christmas Day, they'll realise they are loved and that they are cared for."
St Fagan's Church community have a long history of helping those in need in their community. Company at Christmas began in 2015 and continues to grow in popularity each year. The church also organise weekly food parcels for the more vulnerable people in their community.
"We don't just do this at Christmas," says Angela. "We love our neighbour all year round which is why through our FairShare scheme organise do weekly deliveries of food to families in need.
"Christmas may come once a year but the need to help others happens every day."