Free to be ourselves
On the 6th of November, Rev'd Rose Hill, Ministry Area of Llantrisant, attended an Open Table Eucharist in St Deiniol's Church, Hawarden. Rose shares her reflections of what was a deeply moving service.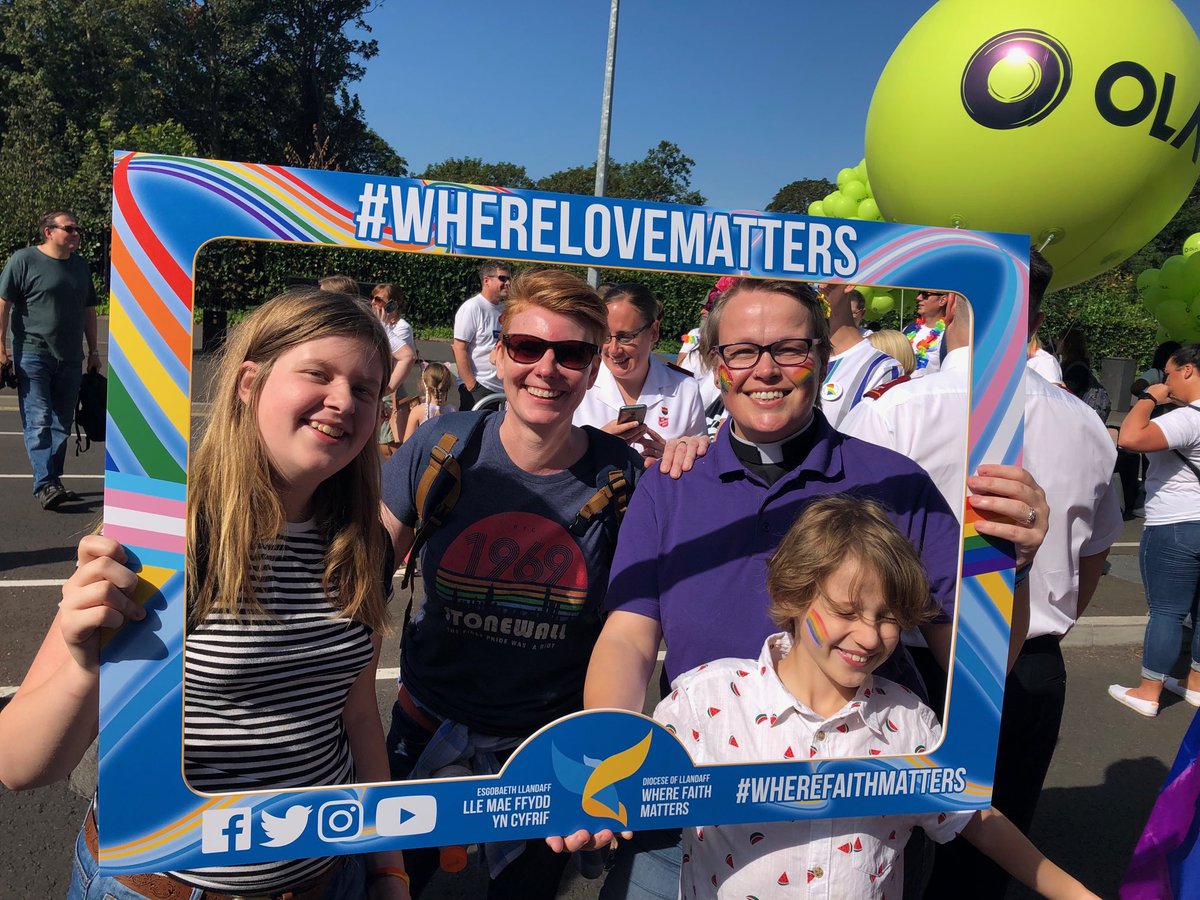 As a civilly partnered priest in the Church in Wales and, until recently, one of the chaplaincy team in Faith Tent @ Pride Cymru, I have experienced and witnessed the effects of the great hurt and rejection that can be felt by LGBTQIA+ people of faith from our own faith communities.
When Bishop Cherry spoke these words I suddenly felt a weight lift from my shoulders,
"Here is a place of safety; a space where those of us who are LGBTQIA+, along with our friends and allies, can come together and feel free to be ourselves without having to explain or justify; without feeling just a bit on the outside.
"We're amongst friends, amongst people who understand, amongst fellow travellers on the road, worshiping and praying together and exploring what it means to be followers of Christ as LGBTQIA+ people in the Church and in the world."
Her affirmation of welcome and safety released something in me. A weight that I had not completely been aware of, for after many years it had been internalised.
For the first time as a priest I sat not just accepted but fully affirmed as a child of God, welcomed not just tolerated.
Acceptance or affirmation?
The language of acceptance and affirmation is important.
When people tell me they accept LGBTQIA+ people, it's a start not a conclusion. We might accept that there is roadworks outside church making noise, we might accept that the heating engineer is running late. Acceptance is often the language of tolerating an inconvenience.
Affirmation is different.
Affirmation is not having to feel like I have to come out yet again. Affirmation is not having to nod and half smile as someone tells me that they Love the Sinner but Hate the Sin.
Affirmation is being able to speak of my trans, non-binary child and not have to explain why I'm using They rather than He or She. Affirmation is sitting listening to the Gospel and knowing in my heart that when Jesus said:
"Come to me, all you who are weary and burdened, and I will give you rest. Take my yoke upon you and learn from me, for I am gentle and humble in heart, and you will find rest for your souls. For my yoke is easy and my burden is light."
he was saying that to all of us in the LGBTQIA+ community without condition or expectation of conformity to old regimes of 'Don't Ask, Don't Tell'.
A hopeful future
As Bishop Gregory welcomed us to receive the sacrament, I began to sob. I sobbed mostly through joy but also in sadness that there are so many LGBTQIA+ people who feel rejected by a church that should love them as Jesus loves them.
As I drove back to South Wales, I felt like I was returning home from pilgrimage.
I felt refreshed but also challenged. I also felt a deepening call to minister at a grassroots level to the LGBTQIA+ community and the marginalised.
There have been many wonderful changes in the last few years, not least blessing for civil partnerships but the work doesn't and mustn't stop there.
I am excited by what the future holds for the Church in Wales, and I am thankful that God has called me to be part of that change in my own very small way.
Open Table Network
Open Table Network (OTN) is a growing partnership of Christian worship communities which welcome and affirm people who are lesbian, gay, bisexual, trans, queer or questioning, intersex and asexual (LGBTQIA), their families, friends and anyone who wants to belong in an accepting, loving community.
The network has been created by, and for, LGBTQIA+ people. There are currently 21 OTN communities across England & Wales. Find out more on their website.