Young Faith Matters win Partner of the Year at Christian awards
Steve Lock, Senior Diocesan Engagement Worker, won Partner of the Year at Message Wales Annual Awards Ceremony 2021. The award recognised Steve's innovative use of the Message Bus during the Young Faith Matters Summer Event programme.
The Message Bus is a state-of-the art mobile youth centre where young people can find a safe place to meet. The Message Bus is kitted out with games consoles, climbing walls, slides, gaming PCs and more. Steve arranged for the Message bus to travel to St Teilo's Church in Wales School and to churches across the South Wales valleys. The aim of the events was to introduce young people to church in a new and exciting way.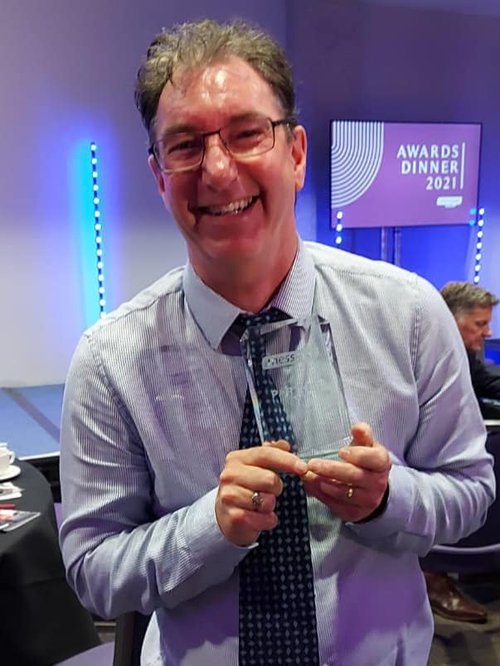 Steve, who heads up the Young Faith Matters team, says, "I'm thrilled - and suprised - to have been awarded Partner of the Year especially after such a difficult year when so many Christian organisations raised the bar in youth engagement. This award is for the whole of the Young Faith Matters team who worked incredibly hard during the summer to put on events that would engage young people in the good news of Jesus Christ.
"It's been a tough time for young people during lockdown but hearing some of the incredible stories of how God has moved in new ways during this period was inspiring - and the Diocese of Llandaff played a big part in that. We look forward to the many other events we have planned with Message Wales throughout the next year."
Contact stevelock@churchinwales.org.uk for more information about Young Faith Matters.
Young Faith Matters
Young Faith Matters is a project run by the Diocese of Llandaff to nuture faith in young people.The project is funded by the Church in Wales' Evangelism Fund which was set up in 2018 to help engage people with the Christian faith in vibrant and exciting ways.
Llandaff Diocese was awarded a grant of £2.9m to engage the missing generation of church-goers – children, students and young adults. Working in partnership with schools and churches across the diocese, Young Faith Matters will pioneer a large-scale, school-focussed strategy for young faith engagement in Wales.
The Evangelism Fund grant has funded the planting a new church in Cathays to serve a younger generation. Citizen Church is in the heart of Cardiff's student population and in its first year has reached 500 members.
Message Wales are a Christian organisation who are passionate about sharing the gospel with young people and partnering with local churches through our different ministry areas in prisons, schools and communities.